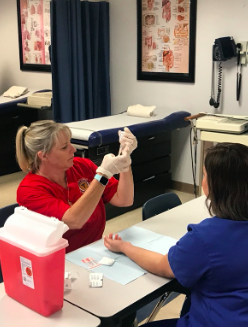 Healthcare is one of the fastest growing and in-demand industries in Arizona, which makes now the perfect time to begin a career as a Medical Assistant!
There are several types of MAs, all of which are vitally important to the healthcare teams they are a part of. An MA works alongside physicians and other healthcare providers to assist with patient care, handle administrative tasks, and complete clinical procedures. In many clinics and doctors' offices in and around the Phoenix area, they are in charge of managing the office which allows the physician to devote more time to providing top-quality patient care.
Employers in Arizona set their own educational requirements for the Medical Assistants they hire. The standard is typically attending an accredited medical assistant program. At the Allen School of Health Sciences – Phoenix campus, our program is accredited.
Duties and Responsibilities of Medical Assistants
Although the duties of a Medical Assistant may vary somewhat from one job to the next, they all work to keep doctors' offices and clinics running smoothly. In all cases, an MA in Arizona performs the tasks that physicians delegate to them. The goal is to support each physician in providing the best possible patient care. In smaller practices, the MA may perform virtually all office and clinical tasks, but in larger practices, they may have a specialized function, which may include managing other staff.
Types of Medical Assistants
There are three main types of Medical Assistants: Clinical, Administrative, and Specialized Medical Assistants.
Clinical Medical Assistant
A clinical MA's primary focus is on patient care, conducting assessments, and performing other clinical tasks. This may include preparing patients for medical examinations, documenting vitals and medical histories, instructing patients on home care, performing minor treatments, and assisting the physician during examinations. While the job duties of a clinical Medical Assistant in Arizona are broad, the main focus will be on the clinical aspects of the practice.
Administrative Medical Assistant
Administrative MAs in Arizona mostly perform administrative tasks such as managing patient records, making appointments, answering phones, maintaining the front desk/reception areas, and performing general accounting and billing. Administrative Medical Assistants play a pivotal role in physicians' offices throughout Phoenix.  They ensure that the business side of the practice operates smoothly, to ensure minimal interruption so the physician can easily provide patient care. To be effective in this position, job candidates should have superb written and oral communication skills, proper phone etiquette, above-average computer skills, and a basic understanding of medical terminology.
Specialized Medical Assistant
Specialized MAs perform specialized clinical tasks since their specialized training allows them to work closely with physicians and serve patients more directly. Depending upon the size of the medical practice, specialized Medical Assistants may report directly to the physician, or to an administrative manager. The specific tasks that they perform will depend largely on their area of specialization, size of the practice, and the number of assistants on staff.
There are many specialized Medical Assistant certifications available in the Phoenix area. To receive certification, assistants must complete an accredited training program and pass the certification examination. In many cases, certified Medical Assistants in Phoenix earn higher wages and have better job opportunities than those without certification.
At the Allen School of Health Sciences Phoenix campus, we are devoted to fostering positivity, empathy, professionalism, and integrity in our future Medical Assistants. The Allen School of Health Sciences Phoenix campus is offering a blended program of online and hands-on interaction classroom learning in a clinical setting for enrollment for our classes starting soon. Contact the Allen School, Phoenix campus today! We cannot wait for you to become part of the Allen School family. Visit www.allenschool.edu​ to learn