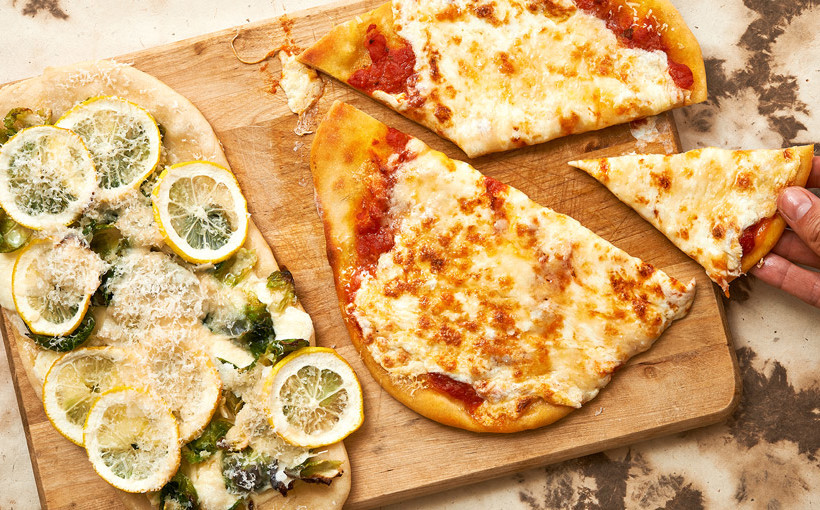 medical billing online students can throw together quickly at home in between study sessions.
Today's recipe – 2 ingredient pizza crust – is so awesome!  I made it myself recently because I was convinced it couldn't possibly work.  Yet, just two foolproof and easy ingredients combine to make a very excellent, New York style, thin, crispy-crust pizza dough that can then be topped with a nearly limitless array of yummy toppings.
2 INGREDIENT PIZZA DOUGH
– Taken from
The Slow Roasted Italian
– 1 CUP OF FAGE GREEK YOGURT (and brand of Greek yogurt works, but make sure it is 'plain' variety with no fruit or flavor added) 1 – 1 ½ CUPS OF SELF RISING FLOUR
NOTE
: If you can't find self-rising flour, you can substitute 1 ½ cups all purpose flour, 1 ½ teaspoons of baking powder, and ¾ teaspoon of salt; add in with cup of Greek yogurt. Mix ingredients in a bowl until it starts to come together and then knead it on a well-floured surface for about 8-10 minutes. Add in a little bit of flour at a time if the dough is too sticky. Form it into the pizza shape/size you want and then brush with olive, add toppings, and put straight into a 450
°
F oven for 10-12 minutes. I swear it works, don't ask me why.  And, no, the dough doesn't taste like yogurt, it tastes heavenly. Top this impossibly easy dough with tomato sauce, mozzarella cheese and any other toppings you favor.  Share your results with other medical billing online students in the comments section of this post.