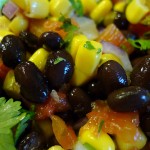 Juggling online classes, family and career can be a daunting task.  It can feel like there is little room left for taking the time to cook and enjoy slow foods.  Yet we know just how badly the modern diet of convenient, pre-manufactured and/or fast foods can be for your physical well-being.  But slow foods don't have to live up to their title in terms of preparation time.  Follow me over the fold for an excellent, quick recipe using some of summer's best produce. Here's a great, quick and easy meal using two of my favorite summertime ingredients: sweet corn and vine ripened tomatoes.  If you live in the northeast like me, these two items are just coming in from local farms and they are so full of flavor.
Grilled Chile-Lime Chicken Soft Tacos with Corn and Black Bean Salsa
Ingredients:
1 pound boneless chicken breast 1 lime 2 tomatoes 2 ears of corn 1 small, fresh Jalepeno pepper 1 medium yellow onion 1 can black beans 1/4 cup chopped cilantro (optional) Salt – Pepper – Chili Powder 1 package soft flour or corn tortillas
Directions:
1) Fire up your grill and while its heating up, in a mixing bowl, bathe the chicken breasts in the juice of half a lime.  Add salt, pepper and chili powder to the bowl and toss the chicken around so that it is evenly coated with the lime/spices mix.  Once your grill is heated up, begin grilling chicken.  While it is cooking prepare the salsa as described below. 2) Dice the tomatoes and onions.  Place in separate mixing bowl. 3) Cut jalapeno stem off and then cut it in half lengthwise and remove seeds (unless you like hotter salsa – then leave the seeds intact).  Mince the jalapeno well.  Add to tomato and onion. 4) Shuck the ears of corn and cut it off the cob carefully using a sharp knife.  (some prefer to cook the corn first, but it is equally yummy raw).  Add kernels to the bowl with tomato, onion and jalapeno. 5) Drain black beans and add to the mixture. 6) Add salt to taste and the juice of the remaining half of the lime 7) Add optional cilantro.  (We grow some in our little garden. But it is easy to find at the market too.) 8) Mix well
Assemble the meal
1) As the chicken is done grilling, place tortillas on the grill, two at a time and grill them lightly for about 30-40 seconds on each side.  This will make them soften up and become more pliable. 2) Slice cooked chicken breasts into pieces and place in serving plate.  Pile a stack of grilled tortillas on a plate next to the chicken and bring the bowl of salsa to the table too. 3) Let your family or other dining companions build their own soft tacos. If you're so inclined, add these other items to the table to be used in taco building: –Sour cream –Avocado chunks –Shredded cheddar –Hot sauce (we like Cholula brand) What are some of your favorite summer recipes?  Share with others in the comments below.