Going back to school as a working adult?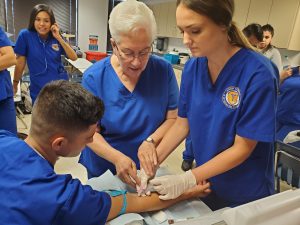 A growing number of career and vocational training schools now offer programs oriented toward working adults. People frequently enroll in career schools to acquire new skills for a new career. Accelerated programs and flexible schedules are making it easier and more convenient for working adults to finish school. Enrolling in a career school is a great way to make a career transition, learn new skills, study subjects of personal interest, and enhance marketability in a competitive job market. Unfortunately, many would be students who desire to position themselves for a career change or return to school do not do so because of fear.
The First Step is Admitting It
The following concerns and fears are shared by many working adults reluctant to return to school: Working adults are concerned about the cost of returning to school, the time commitment involved, and the challenges of attending classes with younger students. Many are also concerned that their employers will be unimpressed with their new career. However, most working adults enrolling in career school end up fitting in well and are more than up to the challenge of returning to school as an adult. They usually enroll with fear and concern, only to later realize that their fear and concerned were unfounded.
I'm Afraid It Will Be Too Expensive
It can be expensive returning to school. The expense alone is enough to cause many working adults to reconsider their decision to return to school. However, when education is viewed as an investment, the costs of attending school does not seem as large of a sacrifice. It's best to have a long term rather than short term perspective. Salary increases associated with obtaining more education often offset the cost of returning to school. Many schools are relatively inexpensive to attend. Before deciding against returning to school base on the cost, consider how earning your degree or getting advanced training will help you in your current or new career.  Also consider what your school can do to help offset tuition.  Do they offer Financial Aid to those who qualify?  Payment plans?
I'm Afraid It Will Take Up Too Much Time
It's not unreasonable for adult students to feel overwhelmed with their current responsibilities. As a result, returning to school can be that much more intimidating. Working full-time, raising a family, and fulfilling other responsibilities are enough to occupy already full schedules.
However, it's possible to make time to return to school–and many adults do it quite successfully. It may require sacrificing time spent enjoying leisurely activities, but it is possible to make the time. If you set a goal and have unwavering commitment to reach it, you can develop the ability to make sacrifices that will allow you to accomplish your educational objectives.
I'm Afraid It Will Take Forever to Complete My Program
The Allen School offers accelerated learning programs. As a result, these programs require less time than would be required if one pursued their degree the traditional way. Our modules are 5 weeks long, and educational quality is not sacrificed to speed through course material. Students can graduate their program in as little as 9 months.
Why Make the Move?
Since many career schools cater exclusively to working students, there are few, if any, reasons why an adult should hesitate returning to school if they feel it makes sense. They can greatly benefit from the decision to further their education. The following are just a few of the many benefits of returning to school as an adult:
Promotion or career advancement opportunities: Returning to school is one way to improve your chances to get promoted, or it is one strategy for beginning a career transition.
Finish a started program: Many students find opportunities in the workforce before completing school. However, it is never too late to return and start a new career.
Demonstrate to your children and future generations the importance of education: If you set an example for your children, they are more than likely to attend school and enjoy the benefits of a career can offer.
It may seem intimidating and daunting to enroll in school, but this should not be a reason for missing out on the benefits of acquiring more education. Adults who simply put together a good, workable plan can smoothly make the transition back to school and make the experience a great success. Ready to start a Medical Assistant Program? Contact the Allen School today! We are enrolling now for our fall classes and cannot wait for you to become part of the Allen School family. Visit www.allenschool.edu to learn more.
-Allen School