Medical Assisting: Turning challenges into rewards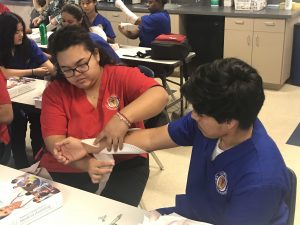 You dreamed of a Medical Assistant career where your life's work would be all about helping others. You wanted to contribute your knowledge and compassion to a healthcare team that helps patients get well, but the profession has its challenges. So how do you turn those challenges into rewards and accomplishments you can be proud of? How can you do the job you love? Follow these steps:
Accept diversity
Not all your patients, or even all the people you work with, are going to think just like you. If you understand that fact from the get-go, you won't look at differences as a bad thing. Instead, you'll come to appreciate diversity and enjoy getting to know others. Learn about their cultures and ideas—and share yours. Isn't it awesome that you get to meet so many different people as a medical assistant?
Empower your patients
No one enjoys being hurt or sick. All they want to do is get better. And as a medical assistant, you get to help them! Share what you've learned through your healthcare training at the Allen School of health Sciences and experiences you have learned working in the healthcare field. Will give your patients some of the tools they need to get well. For example, you probably understand the importance of following a physician's instructions to the T. You can explain the doctor's instructions and turn medical terminology into a language your patients can understand. All that info helps your patients take charge of their own care. The more they do what they're supposed to, the sooner they'll be on the mend.
Advocate for your patients
How can doctors possibly help patients if they don't have all the details of what's going on? Since you might spend more time with patients than even their doctors, you could have vital information that will improve their treatment. Encourage your patients to be completely open and honest about how they feel and what they do—and tell their doctor. But when they don't, it's your job to make certain the healthcare staff knows what they need to make good decisions for the best patient care. Communication can be a challenge in any setting, but your patients rely on you to have their best interest at heart. And their good health and sincere appreciation is a great reward.
Acknowledge your own limitations
It's frustrating to deal with difficult patients. It's hard when you really can't make someone better and when you don't have all the answers. But you're not supposed to! It's important to remember what you can—and can't—do as a medical assistant. Focus on the positive. You can offer kindness and comfort. A smile and a pleasant attitude can go a long way to turn grumpy patients into happy people. But when your positive disposition doesn't work, don't let it get you down.
 The best reward about being a medical assistant is to know that you can make a difference in someone's day, in their healthcare, and maybe even their life. If you're up for a challenge because you really want to do something that matters, maybe a career as a medical assistant is right for you. Interested in learning more about developing the skills and attributes of a medical assistant? Ready to start a Medical Assistant Program? Contact the Allen School today! We are enrolling now for our fall classes and cannot wait for you to become part of the Allen School family. Visit www.allenschool.edu to learn more.
-Allen School