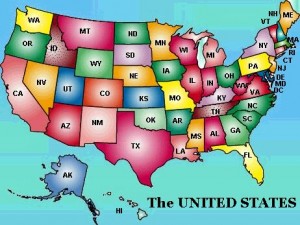 Listen up those of you
finishing up your medical billing courses
or
medical assistant program
with Allen School.  You're at the threshold of a new career and a new life.  Some of you may even be considering taking your newly minted certification and moving to a new locale to start a new career and life.  If that describes you, then check out the following information. The United Health Foundation, American Public Health Association and the Partnership for Prevention collaborated to produce a report identifying the top 10 healthiest states to live in and the top 10 least healthy states to live in.  According to report producers, "Rankings are based on a number of criteria, including premature death, infant mortality, preventable hospitalizations, high school graduation rate, violent crime, health insurance, child poverty, obesity, diabetes, physical activity and immunizations."
The top 10 healthiest states?
Hawaii, Vermont, Minnesota, New Hampshire, Utah, Connecticut, Colorado, North Dakota and New Jersey.
The top 10 least healthy?
Indiana, Tennessee, South Carolina, Oklahoma, Kentucky, West Virginia, Alabama, Louisiana, Arkansas and Michigan So now you just need to decide if you want to live in a state that's healthy so you enjoy a healthful quality of life – or – if you want to live in an unhealthy state where there is guaranteed to be higher demand for the health care worker such as yourself. Or, you might be wise and choose to live in New Jersey, and work in neighboring CT to get the benefits of both!