How to Get Into a Medical Assistant Program After High School
If you're looking for a rewarding career in healthcare that won't take years to accomplish, you might consider becoming a medical assistant. This is a career you can enter with less than two years of education, so if you are able to imagine yourself assisting doctors and nurses at a clinic or hospital, this might be the right career path for you. Learn how to get into a medical assistant program after high school!
Obtain Your High School Diploma or GED. 
The first step is to have your high school diploma or GED. Schools with health care programs will require you to have completed high school. Employers will also expect that you have this as a minimum for educational requirements. If you need to get your GED, there are practice tests available online to help you prepare for the real thing. Once you have your diploma or GED, the world of medical assistant programs opens up to you! 
Choosing the Correct Medical Assistant Program. 
The best way to enter the field is to choose one of the available
medical assistant programs
offered in your area. You have a lot of options when it comes to your education. We have found, most students choose to do accelerated classroom-based programs with flexible scheduling and internships. Classroom based programs with internships are helpful for those who learn best through face-to-face interactions. This also gives you the chance to ask the instructor questions and discuss the material with other students. On internship you will be working in the clinical environment with the benefit of getting "real world" hands on experience. 
Consider Becoming Certified. 
Becoming a Certified Medical Assistant will look great on a resume and increase your chances of finding employment. Once you've completed a medical assistant program, the next step is sign up to take the test through the American Association of Medical Assistants. The test is offered several times throughout the year. You will also need to complete an application to be considered for your certification.
Choose Your New Path Today! 
Now that you know how to get into a medical assistant program after high school, your next step is choosing the right one for you. Ready to start working towards a career you can love? Contact the Allen School today! We are enrolling now for our spring classes and cannot wait for you to become part of the Allen School family. Visit
www.allenschool.edu
to learn more.-Allen School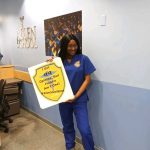 CONTACT US