Medical Assistant Duties
While the duties of a
medical assistant
can vary based on the particular practice, some of the key tasks a person is educated on include measuring vital signs; taking patient histories and relevant personal information; preparing patients for exams; managing and updating patients' electronic health records; scheduling patient appointments and giving patients injections or medications, if the particular state's laws allow. One reason why students choose to pursue the medical assistant field is the variety of settings medical assistants work in. According to the United States Bureau of Labor Statistics (BLS), an estimated 59 percent of medical assistants work in physician offices. An estimated 15 percent work in hospitals while another 10 percent work in offices for additional health practitioners. The remaining 7 percent work in outpatient care centers.
The Expanding Medical Assistant Field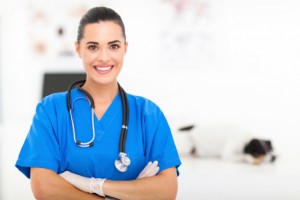 Our students opt to pursue the medical assistant field because they know it is a growing one that holds financial promise. According to the BLS, more than 590,000 people work as medical assistants in the United States as of 2014. The Bureau estimates this number will increase by the year 2024 when an estimated 730,200 people are expected to work as medical assistants (
http://www.bls.gov/ooh/healthcare/medical-assistants.htm#tab-6
). The projected growth of the field may be due to several factors. These include an aging baby boomer population where people will need more medical care and a growing number of medical facilities due to the increased availability of healthcare. Medical assistants are also found in a variety of physician practices, such as urology, dermatology, cardiology and pediatrics. The medical assistant field is expected to grow much faster than other healthcare support occupations, which are projected to grow by 19 percent until 2024. According to the American Association of Medical Assistants (http://www.aama-ntl.org/docs/default-source/about-the-profession-and-credential/medical-assisting-career.pdf?sfvrsn=10), healthcare employers prefer to hire employees with formal medical assistant training and education. Pursuing education in medical assisting can ensure students not only join this growing field, they also are the most likely to get high-paying and highly desirable jobs.
The Allen School of Health Sciences offers Medical Assisting degrees at our Brooklyn, NY; Jamaica, NY; and Phoenix, AZ locations. For more information, call our toll-free number at 1 (888) 620-6745 or click on our "Live Chat" option to speak to our representatives