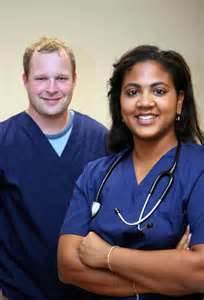 Everyone in this blogger's house, including yours truly, has been suffering with the Flu for the last 10 days.  Luckily, I got a Flu shot earlier in the year so my sickness was mild compared to my wife and son's.  Authorities are saying this year is shaping up to be a bad year for Flu.  Articles
here
and
here
show the details of the emerging epidemic.  All this talk about overrun hospitals and doctors' offices got me to thinking, "how do the office workers in my doctor's office (and those in all other doctor's offices) work in such a contaminated environment and manage to avoid being sick all year long? It seems that for medical office assistants, medical billing and coding professionals and certified nursing assistants (CNA), there are some best practices to follow that can help cut down on exposure and infection by communicable diseases.  Heathworkerscollective.com has an informative article entitled,
"6 Tips for Avoiding Illness When You Work in a Medical Office"
and it has some very excellent, common sense suggestions for medical office workers to help them avoid getting ill from patient contact.  So if you've recently completed your studies at Allen School and have earned your certification as a medical billing and coding specialist, a medical office assistant or a CNA, you should read this piece and take the advice to heart if you want to stay healthy throughout this Flu season.