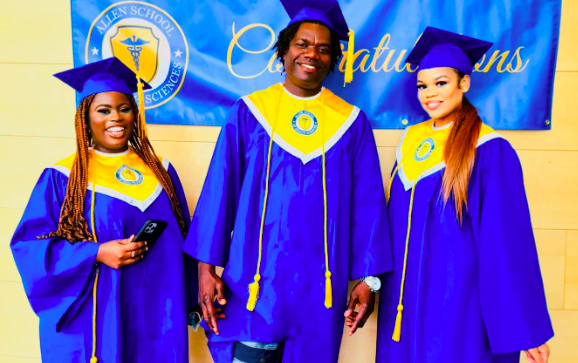 Are you preparing for a job interview for a Medical Assistant position? Familiarizing yourself with these common interview questions will help you feel more comfortable and prepared. While attending the Allen School of Health Sciences, our career services team will assist you using these questions to give you a practice interview.
Tell Me a Little About Yourself.
This is a basic interview question that can be tough to answer due to its open-ended nature. Instead of sharing hobbies or personality traits, keep your answer focused on your professional experience and education.
Example: "I recently completed my Medical Assistant program at the Allen School of Health Sciences where I learned to work with patients. I took vital signs and assisted doctors in physical exams and other procedures. I especially enjoy communicating with patients and helping to make their experience easy and comfortable."
How Much Experience Do You Have as a Medical Assistant?
If you have prior experience as a Medical Assistant then tell them where you have worked, and how long you worked there. If you are new to the field then tell them about your experience with the Allen School and the 275 clinical hours you obtained at your internship.
Example: "I recently completed a 275-hour internship at City Medical where I gained valuable hands-on experience in the responsibilities of a Medical Assistant. Now that I have graduated and completed my internship, I am looking forward to finding a full-time position and continuing my professional growth."
What Are Some of Your Strengths?
When answering this question, it's important not to brag; Simply discuss the areas that you feel you are strongest in.
Example: "My phlebotomy skills are one of my biggest strengths- I feel confident when drawing blood. I am also good at communicating with patients and making them feel comfortable."
What Are Some of Your weaknesses?
When answering this question do not put yourself down or say you are bad at something. Instead, simply mention areas where you are looking to improve.
Example: "I am currently more comfortable with clinical tasks than administrative responsibilities, but I am good at communicating, so I am confident that I can adapt to that role quickly."
Are You Experienced in Front Office Administrative Responsibilities? Are You Comfortable on The Phone?
It is common for Medical Assistants to do a combination of clinical tasks and administrative work. Be ready to talk about the office tasks you have been trained to do.
Example: "We learned many front office duties in my training program at the Allen School of Health Sciences. I have been trained on medical billing and coding and Electronic Health Records. I am also comfortable talking to patients both on the phone and in person."
Have You Been Trained in Phlebotomy? Are You Comfortable Drawing Blood?
Phlebotomy is an important part of a Medical Assistant's job, so employers will want to make sure you are trained and ready to take on that responsibility, even if you have not had any experience in the field yet.
Example: "I am comfortable drawing blood and all phlebotomy procedures; I did well in my training at the Allen School of Health Sciences. I have had a lot of practice drawing blood from fellow students, family, and friends as a core component of my training, and continued receiving experience throughout my internship."
Are You Experienced in Taking Patient Vital Signs and Medical Histories?
These are important responsibilities for a Medical Assistant, so be sure to detail the procedures you learned in your training program.
Example: "I have been trained in taking weight, height, temperature, and blood pressure. We practiced in the lab at school, and I had the opportunity to take these measurements on patients during my internship."
Why Do You Want to Work Here?
It's important to research a company before you interview with them. If this question comes up, have a specific answer about what you can bring to the company. Avoid talking about personal motivations such as the good pay or easy commute.
Example: "Your Hospital's pediatrics department would be a good fit for me because I enjoy working with children and working with six different doctors would give me a great range of experience."
Why Are You the Best Candidate for This Position?
When answering this question, you do not want to come off conceited. Simply reiterate your training and experience, and that you feel you would make a valuable member of the team.
Example: "I feel that my training, internship experience, and communication skills make me a strong candidate for this position. I am confident in all the responsibilities in the job descriptions, and my personal skills will allow me to make patients comfortable during their visit."
Your Journey Begins Today!
The Allen School of Health Sciences is enrolling now for early acceptance for our summer classes. Take part in one of our virtual career planning sessions and visit our campus to discover the many healthcare pathways available to you. Contact the Allen School today! Become part of the Allen School family. Visit www.allenschool.edu to learn more.
-Allen School