Medical Assistant School in the New York Area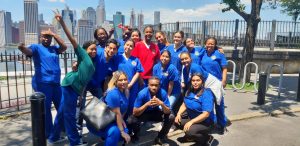 If you're thinking of launching or continuing a career in Medical Assisting, you'll need to plan out and make some important decisions regarding your MA education. In particular, you'll need to decide where you want to receive your MA training and eventually seek employment. While a formal education is not always required to practice Medical Assisting, the completion of a standardized program will likely increase your chances of obtaining employment and advancing your career. In this exceptionally competitive field, it's important to consider a formal education.
Typically, Medical Assistant training includes courses in anatomy, physiology, medical office management, and other related subjects. These classes can familiarize you with real-world situations and provide you with valuable experience before graduation. Overall, graduates of The Allen School of Health Sciences may have an advantage over candidates who did not complete formal training. Not only will they have an understanding of the clinical and the administrative aspects of the role, but they may complete externships and accumulate experience for their resumes.
One of the most appealing aspects of Medical Assistant training is that The Allen School accelerated program can be completed within less than a year, providing graduates with a set of marketable and in-demand skills. If job security is important to you, Medical Assistant training equips students with a skillset that allows for work in a doctor's office, hospital, clinic, retirement center, or other healthcare setting. In addition, the Allen School's career services team can teach students how to market themselves in a competitive job market. For instance, the Allen School provides their MA graduates with career development assistance, offering access to a team of career service advisors who can assist with resume/cover letter preparation, networking, and other job search strategies. As well as job placement after graduation.
Location matters for a few different reasons. First, it's important that the campus is located within a reasonable distance, as you might be working while you attend school. You might also have family obligations or other time constraints. Location can also make a difference for future job prospects. If you successfully graduate and aim to market yourself in the New York Area, then attending a New York area Medical Assistant program will likely strengthen your job prospects. In many fields, it is often critical to seize networking opportunities whenever possible. Doing so can get your foot in the door and allow you to develop more professional contacts.
If you are interested in becoming a medical assistant, you can earn your certificate in less than a year. We are enrolling now for our fall classes.  As always, we would love to hear from you! Visit www.allenschool.edu to learn more about an exciting career as a medical assistant.
-Allen School