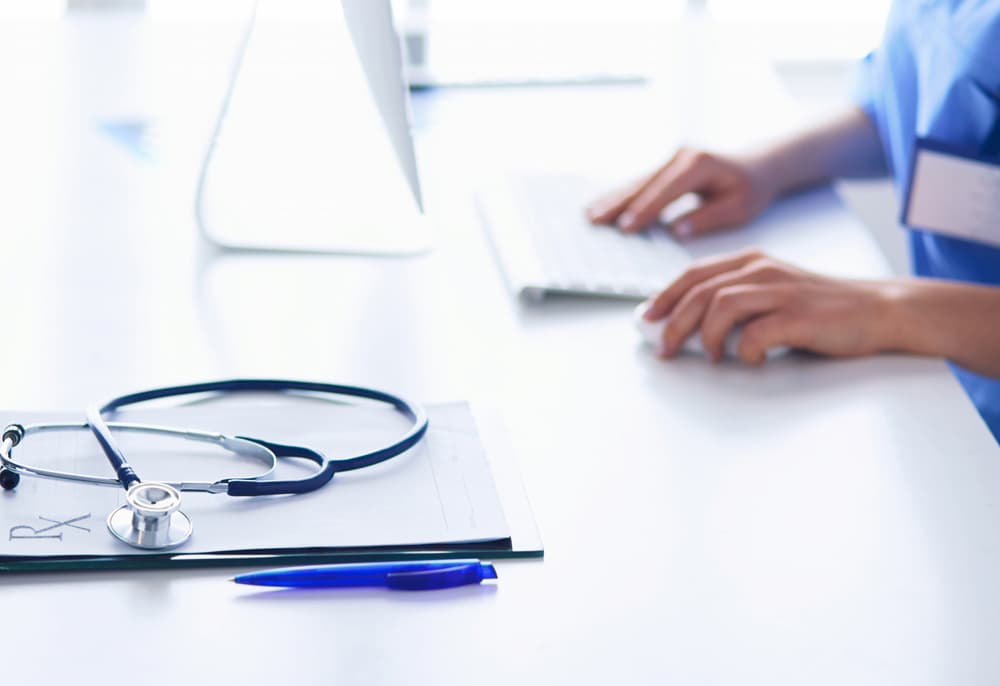 Medical Assistant vs. Medical Office Assistant: Definition
Both medical assistants and medical office assistants perform similar tasks, but these careers are different enough to deserve their own focus. Medical assistants typically work on a wide range of medical-related tasks, while medical office assistants are more specifically trained to handle the daily functions of the medical office.
What is a Medical Assistant?
Medical assistants are health care professionals that are competent in a wide range of administrative and clinical tasks. Medical assistants work hard to ensure that offices, clinics, and labs run smoothly so physicians can perform their jobs properly. It is important for a medical assistant to keep organized, have an eye for detail, and be extremely motivated to get their work done.
What Does a Medical Assistant Do?
Medical assistants help physicians in both the office and exam room. A medical assistant may have many different tasks depending on where they work. An MA has the ability to work with a licensed physician in any field (pediatrics, dermatology, urgent care, cardiology, etc….). They are trained to work the front office as well as the back office and can perform clinical tasks such as EKG, injections, taking blood, urine/blood/chemistry, sterile fields and so much more! —
What is a Medical Office Assistant?
A medical office assistant helps keep the office side of a healthcare facility running smoothly. They typically have excellent communication skills and are good with numbers. They are often very organized, detailed, and motivated, like medical assistants.
What Does a Medical Office Assistant Do?
Medical office assistants keep the office running through secretarial tasks but have specific medical knowledge beyond a traditional secretary job that allows them to understand the inner workings of hospitals, clinics, and laboratory procedures.
Medical Assistant vs. Medical Office Assistant: Job Outlook
In addition to the current growth in the medical assistant field, the
U.S. Bureau of Labor Statistics
predicts a 19% increase by 2029, but higher than the average 4% of other fields. In Phoenix, Arizona, the projected growth is around 18% by 2030. A 3.2% annual growth gives those interested in becoming a medical assistant or medical office assistant an upper hand at finding a job post-education.
Job Duties
The job duties between a medical assistant and a medical office assistant are not entirely different. However, a medical office assistant will have more office-related tasks, while a medical assistant may do more tasks in labs and patient rooms. Typical job duties for a medical assistant include:
Answering telephones
Scheduling appointments
Greeting patients
Updating and file patient charts
Ordering supplies
Arranging for hospital admission and laboratory services
Handling billing, collections, and bookkeeping
Taking medical histories
Recording vital signs
EKG
Phlebotomy
Typical job duties for a medical office assistant include:
Performing opening and closing office procedures
Managing medical records
Creating electronic health records
Assigning insurance codes for medical diagnoses and procedures
Processing insurance claims
Performing entry-level bookkeeping and accounting procedures
Start by Earning Your Medical Assistant Certificate at Allen School of Health Sciences
If a career in medical assisting or medical office assisting sounds like the right job for you, it is time to take the next step. At Allen School of Health Sciences, our
Medical Assistant Program
in Phoenix, AZ, is designed to help you get the training you need to succeed in the medical field. This training program is offered at our Phoenix campus, in addition to both our Brooklyn and Jamaica/Queens, NY campuses. Our blended program offers hands on learning with an interactive classroom experience combined with online learning. If you have any questions about our Medical Assistant Program or any of our other programs,
contact us today
and see how we can help you achieve your career goals in the healthcare field.
Featured Image: lenetsan/Shutterstock