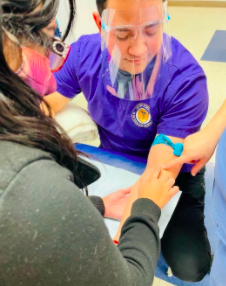 The modern healthcare team is a busy group of men and women who bring their passion and expertise to patient care. Included among those dedicated professionals are Medical Assistants. In today's world it's more important than ever for healthcare professionals to provide a high level of patient care. Medical Assistants are important members of the healthcare team in and out of clinical settings and they help to improve overall patient care. Here's how:
Medical Assistants serve as liaisons between patients and the rest of the healthcare team. They often have more direct patient interaction than other members of the healthcare team and can act as vital communicators between patients and their families, and physicians and other medical staff.
Properly trained Medical Assistants take on many tasks which were once performed by nurses, now freeing up their time which is better directed at patient care. Medical assistants listen to patient histories, take vital signs, and even perform routine tests and lab work.
Medical assistants who work in the front office streamline patient care and help physician offices run at peak efficiency. They schedule and send appointment reminders, collect insurance data and help with electronic medical records. This all allows their appointments to run smoothly, so patients can focus on their health and not issues with paperwork.
By translating medical terminology into language patients can understand, Medical Assistants help ensure that patients follow doctors' orders so they'll be more likely to face a speedy recovery. They instruct patients on treatment and care and follow up with them to answer questions and relay concerns to the rest of the healthcare team.
Medical assistants are a compassionate presence for patients who may feel stressed and afraid. They never forget that the best patient care starts with the patient! They are committed professionals who place the patient first! They help optimize the workflow of the modern healthcare team and provide great patient care.
If you have a passion for helping others and want your work to be something that really matters, maybe a career as a medical assistant is right for you. To learn more. Contact the Allen School today! The Allen School of Health Sciences is offering virtual campus tours for enrollment for our classes starting soon. We cannot wait for you to become part of the Allen School family. Visit www.allenschool.edu​