Medical Assistants Working in Hospitals: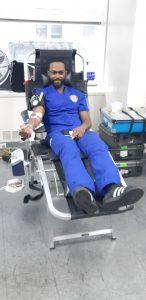 What do medical assistants do? That depends. Particularly in hospitals, some medical assistants (MAs) work primarily in clerical settings, while others perform clinical jobs. In other hospitals, MAs do both. 
Clerical MAs
In a hospital's clerical positions, MAs can perform many of the same tasks as those in a physician's office, with one important difference: The specifics of a hospital MA position vary by department within most hospitals, and there is plenty of variety. Whereas one MA might be auditing medical records, another works as a unit clerk on an orthopedics floor.
Clerical and administrative tasks in a hospital are generally similar to what MA's encounter in other medical settings. Some of these tasks include:
Scheduling patient appointments

Managing electronic health records (EHRs);

Assisting with insurance claims;

Gathering and providing information to other providers;

Communicating with patients and families;

Working in billing departments;

Handling mail;

Managing unit supplies and inventories;
Clinical MAs
What do medical assistants do in a clinical hospital setting? This, too, depends on the department where they work. Some practice in laboratory settings and rarely have patient contact. Others provide for a variety of patient care needs directly. You might see a MA working with patients in the emergency department, receiving basic information on a pediatric floor or even taking vital signs on oncology patients. Still other MAs feed less-mobile patients on a surgical step-down unit.
Hospital-based MAs normally play a more abbreviated clinical role in hospitals than in physician practices. In the latter, much of what a MA does depends on the needs of the physician he or she is assisting. In these settings, their roles are often divided between both clerical and clinical work.
Universal Tasks
Nevertheless, hospital-based MAs perform tasks that reflect the needs of their unit. Many are generic across multiple settings, but others are more specific to the hospital. The range of clinical tasks allowed by a MA varies from state to state: Some clinical tasks are off-limits to MAs practically anywhere. For example, they should never make diagnoses, administer anesthesia or inject anything intravenously. More universal MA tasks include the following:
Administer oral medications;

Transport patients within the hospital;

Assist nurses as directed for a variety of needs;

Help physical and occupational therapists;

Take vital signs;

Call in prescriptions to pharmacies;
Think you might have what it takes, but afraid to ask? Take part in one of our career planning sessions and discover the many healthcare pathways available to you. Contact the Allen School today! We are enrolling now for our fall classes and cannot wait for you to become part of the Allen School family. Visit www.allenschool.edu to learn more.
-Allen School