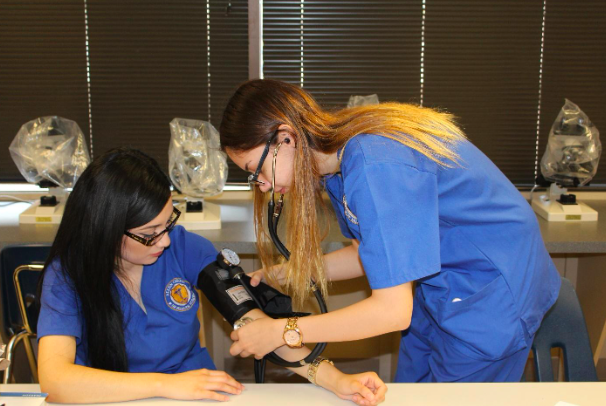 Medical assisting in Phoenix Arizona is not just a job; it's a highly rewarding profession with a diverse array of roles and responsibilities. A day in the life of a Medical Assistant is difficult to pinpoint because your day-to-day activities may vary depending on what type of practice you work for or department you work in. No matter where you work, however, it is super important to have attention to detail, professionalism, and compassion. If you work primarily at the front desk, you'll be responsible for answering the office's phone system and using medical questions to determine the severity of the caller's problem. You also are tasked with informing the physician about patient concerns, scheduling appointments, and greeting patients as they enter the office. Medical Assistants in Arizona should demonstrate professionalism and tact when interacting with patients and follow protocol for determining a patient's immediate needs.
Attention to detail is also extremely important in the front office. In addition to your reception duties, you will also need to obtain patients' insurance information, collect insurance co-payments, verify patients' addresses and phone numbers, update and maintain HIPAA authorizations and call insurance companies for pre-authorization and pre-certification approval for testing or surgeries. Mistakes can be costly for both the practice and the patient, so it's critical that you are thorough and meticulous in completing these tasks.
If you work in the back office, you'll have an even greater opportunity to interact with patients and may even assist the physician in treating patients. On a typical day, you could help collect patients' vital signs such as their blood pressure, pulse, respirations, height and weight. You would also be responsible for obtaining the patient's medical history and determining their chief complaint (the reason why he or she is in the office) so that you can brief the physician.
Other duties might include performing visual acuity testing, ear irrigations, hearing tests, and setting up the exam room for a procedure. Sometimes you might be able to assist the physician with minor surgical procedures, such as inserting or removing sutures. Medical Assistants in Phoenix, Arizona play an important role in making a patient feel comfortable during an appointment. Often, they can help reduce a patient's anxiety about an upcoming procedure by relaying information from the physician in terms that the patient can understand. It's important to have a good bedside manner and a calm demeanor when dealing directly with patients. Finally, some Medical Assistants in Phoenix might be responsible for performing in-house laboratory procedures. These include drawing blood, urinalysis, throat cultures, pregnancy tests, drug screens, EKGs and much more. Attention to detail is important here as well because an error could cause a misdiagnosis.
Regardless of their role, Medical Assistants in Phoenix Arizona serve an essential function for the healthcare team. From the front office to the lab, they contribute to the success of the practice and ensure that patients have a good experience during their visit.
If you want to start a career as a Medical Assistant or learn about a career in health care, Contact the Allen School today! The Allen School of Health Sciences Phoenix campus is offering our blended program of online and hands on classroom training in a clinical setting. We are enrolling for classes starting soon. We cannot wait for you to become part of the Allen School family. Visit www.allenschool.edu​ to learn more.
-Allen School