Medical Assisting: A fun and rewarding career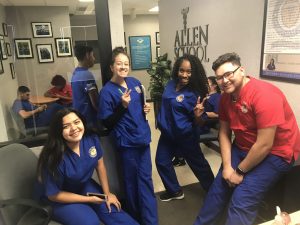 You're going to spend at least eight hours a day, 40 hours a week working. That's a big chunk of time to be miserable if you hate your job. If you're considering a new career, Medical Assisting offers a challenging, exciting, and fun opportunity for adults seeking something more than just a job.
Medical Assistants provide many services to hospitals and doctors' offices, including administrative and marketing work, as well as medical tasks that include taking patients' vital signs. The Allen School of Health Sciences can assist you in getting certified and into the job market in less than a year.
Here are a few reasons why Medical Assisting may be the right healthcare career for you:
Location – Medical Assistants are in high demand and you can take a certification exam that is recognized across the country. For individuals who want to travel or maximize their earnings by moving to a part of the country with higher wages, Medical Assisting is an excellent career choice.
Work with a team – Medical Assisting is a highly social job. You'll work with doctors, nurses, administrative staff, patients, and vendors. If working with others energizes you, being an MA is the career choice for you.
Job security – The healthcare industry is booming with an aging population. Its growing range of services offered by physicians is driving increased demand for medical workers. The healthcare industry is predicted to expand employment opportunities by 2.3 million jobs over the next decade. Experts predict MA jobs will grow 23% in this period. The growth in employment means that finding work and higher wages will be easy for health care workers. https://www.bls.gov/ooh/healthcare/medical-assistants.htm
Upward mobility – Getting your training as an MA can be the first run on a very rewarding career path. An MA can obtain further training to become an Office Manager or Administrator, or even follow a path into nursing.
Personal satisfaction – Very few careers allow people to see the difference that they've made in individuals' lives. Medical Assisting does. An MA gets to help patients dealing with illness and adverse conditions and see the results of their work as patients recover.
Think you might have what it takes, but are afraid to ask? Take part in one of our career planning sessions and discover the many healthcare paths available to you. Contact the Allen School today! We are enrolling now for our Fall Classes and cannot wait for you to become part of the Allen School family. Visit www.allenschool.edu to learn more.
-Allen School