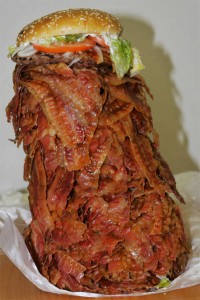 Next in our continuing series on some of the worst fast-food dining options,
the post linked here
outdoes the KFC Double Down sandwich and the Heart Attack Grills Triple Bypass Burger.  This one earns top honors as the deadliest sandwich.  Evidently, at Burger King in Japan, customers can add fifteen pieces of bacon to their burger for an additional $1.25.  Tokyo reporter Mr. Sato ordered this one with nearly 5 pounds of bacon atop.  Evidently, they don't decline absurd orders at Burger King in Tokyo!  LOL!  Excuse me, I have to go.  I have the uncontrollable desire to go eat a bowl of spinach!