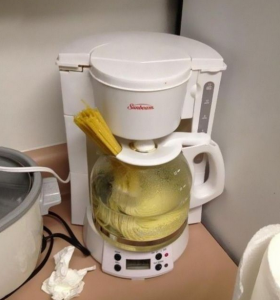 Depending on how you look at it,
taking medical billing courses online either protects a student against the injustices of campus living
, or it robs a student of the formative experiences of living alone for the first time in campus housing.  In reality, the Allen School does not offer a live-on-campus experience even for the ground school courses like medical office assistant training or nursing assistant certification courses.  However, we still thought it was a nice bit of comic material to share the following slide show with you on a Monday morning.
Click here
for a hilarious view into experiences you may forgo by opting to study medical billing courses online.  These are some pretty resourceful hacks that college students living on campus have developed through the years to overcome challenges in cooking, personal hygiene, relaxation techniques, productivity boosts and more. Believe me when I tell you, you're better off studying from the comfort of your own home with easy access to things dorm life cannot take for granted like: full kitchens, indoor plumbing, and more.  Happy Monday students!