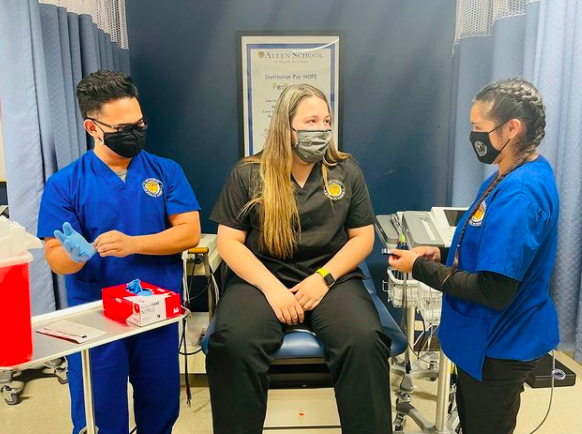 As a Medical Assistant, you are an important and versatile member of the healthcare team. While performing a variety of clinical and administrative duties, Medical Assistants are in constant communication with patients, doctors, and nurses. This is a career where you can bring your personality to work!
Put Your People Skills to Work:
Medical Assistants often work directly with patients. Because of this, you will need a whole set of skills related to customer service and what is loosely known as "bedside manner." You will need to explain medical instructions and information in a clear, non-technical way and be able to receive, interview and sometimes triage patients. You'll also need to remain calm and supportive with distressed or difficult patients. Fluency in a second or third language is helpful and of course, you'll have to maintain confidentiality
Being personable, upbeat, and positive can make a difference as a Medical Assistant. Your personality and how you handle patient care can make a difference to them and their loved ones. Be respectful to anyone and everyone.
Communication skills:
Among the most important qualities of a Medical Assistant are communication skills, as these are the basic characteristics for this profession. An MA should listen to the patient without interrupting them as they explain their concerns but at the same time, still ask appropriate questions when needed. Communication skills involve clearly narrating any vital instructions given by the doctor to each patient as well. These are some diplomatic ways to obtain the essential information from patients to help the physician treat them efficiently.
Stay Organized:
Whether you're keeping office areas and exam rooms clean or patient information and medical records organized, you'll rely on your organizational skills everyday as a Medical Assistant. Staying organized is essential to providing a good patient experience.
Handling stress:
A physician's office or a hospital is full of activity. This type of workplace can make a Medical Assistant feel a bit stressed out if things get a bit unorganized. With lots of administrative and clinical duties to perform every day, getting centered can prove very helpful. At times, all these work-related stresses can contribute to confusion and anxiety so a Medical Assistant should have the capability to overcome daily stresses.
Reliability
A Medical Assistant is expected to be a reliable person: The physician, healthcare group associates and the incoming patients depend on them which is why as a Medical Assistant you should be punctual, career-focused and value the conventional code of behavior.
Honesty
Among the many Medical Assistant traits, 'honesty is the best policy' for this lifetime career. The personal information that a Medical Assistant collects must be maintained as confidential in a healthcare setting. The Health Insurance Portability and Accountability Act (HIPAA) is a confidentiality rule which requires vigilance and care to maintain a patient's information. Every Medical Assistant will be introduced to circumstances where they need to prove their ethical and moral characteristics on a daily basis, hence, honesty is an important quality to becoming a professional Medical Assistant.
Willpower and Politeness
Sometimes, there is an urge to react in response to a physician who is bursting with questions or to a distressed patient who in a lot of pain. It's for this reason that having strong willpower towards your personal feelings in a health care environment while remaining polite, is the unique trait that is necessary for you as a good professional.
Are you ready for a new career in healthcare? The Allen School of Health Sciences is enrolling now for classes starting soon! To find out more, contact the Allen School today! Visit www.allenschool.edu  We look forward to you becoming part of the Allen School family.