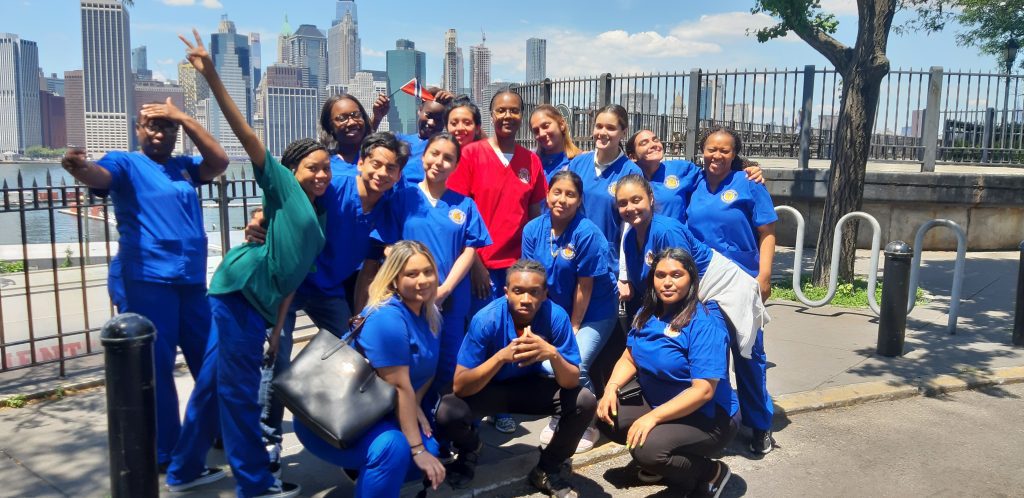 Phlebotomy is an expanding career with tremendous opportunities. According to the U.S Bureau of Labor Statistics, employment openings for phlebotomists have a growth expectation of 22% from 2020 to 2030, a higher rate than most occupations.
The service provided by phlebotomy technicians is critical in diagnosing and treating patients. Phlebotomists are in high demand in hospitals, clinics, communal and regional health centers, and ARC blood centers. Additionally, students who learn phlebotomy gain valuable skills in the health sector that can lead to many careers in healthcare.
Here's what it takes to learn phlebotomy.
What are the Requirements to Train to Become a Phlebotomy Technician?
A phlebotomy technician conducts intricate work that involves drawing blood from hard-to-locate veins and labeling and maintaining the collected samples. There is a requirement for fine-tuned motor skills to locate veins correctly.
Candidates seeking to venture into phlebotomy require interpersonal skills to calm down patients who express anxiety during the procedure. Phlebotomy is detail-oriented and requires observing safety precautions and handling samples correctly. Although these soft skills are critical, professional training is the ultimate bridge to a phlebotomy career.
Here's a list of prerequisites required to learn phlebotomy:
Be 18 years or older

A high school diploma or GED

Show proof of all vaccinations

Pass drug tests

Undertake a background check
A point to note: Remember to check additional requirements required by your school of choice.
How much Does it Cost to Complete Phlebotomy Technician Courses?
Completing a phlebotomy class isn't expensive compared to your earning potential upon completion. On average, the cost may range from hundreds to thousands of dollars depending on the type of school and length of training. Employers are looking for more well-rounded graduates. Knowing phlebotomy is great. Imagine how much more valuable you will be in the workforce if you also know how to take an EKG, and vital signs, conduct a urinalysis, work the front desk, and understand medical billing and coding.
Moreover, phlebotomy technician training is offered as part of the Allen School of health Sciences medical assistant program which will set you up for success after graduation. Other programs can require 18 months to complete; as an Allen School student, you can complete the program in less than a year. You will receive hands-on training plus 275 hours of internship experience at one of our clinical sites.
What does a Phlebotomy Technician Do?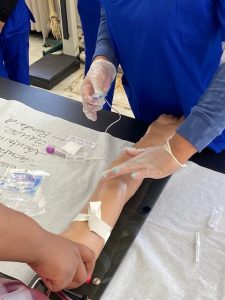 A phlebotomist or phlebotomy technician is responsible for collecting blood specimens for further examination. Any institution that offers health services requires the service of a phlebotomist to provide evidence-based treatments to their patients.
Some of the frequently asked questions by students seeking to learn phlebotomy include:
Is phlebotomy hard?

What does a typical day of phlebotomy look like?

What does a phlebotomist do?
Here are phlebotomists' typical tasks and responsibilities that'll help answer the above questions.
Before phlebotomists draw blood or any other sample, preparation is vital. First, they have a short investigation with the patient to introduce themselves and confirm they are dealing with the correct patient. Then, they find out potential phobias, allergies, or a history of fainting after a blood drawing procedure.
Lastly, they make sure the patient sits comfortably in a supine position and calm the patient if they are nervous.
The phlebotomist selects a sizable, straight, and clear vein during the procedure. At this stage, they observe hand hygiene by sanitizing and using hand gloves for protection against germs and infections.
Procedures that follow after drawing blood
Once the phlebotomist has drawn blood from the patient, they perform other follow-up duties such as:
Sending blood samples to the lab for testing

Applying a bandage to stop bleeding

Referring the patient to the next stage for further instructions

Cleaning the workstation and sterilizing the equipment

Updating the patient's information in the database

Keeping tabs on inventory, e.g., test tubes, needles, alcohol swabs, laboratory forms, and blood vials
Job Outlook for a Phlebotomy Technician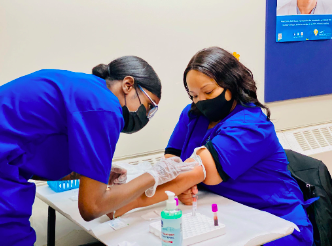 The U.S Bureau of Labor Statistics projects a 22% growth in the phlebotomists' job market from 2020 to 2030. In terms of real-employment figures, the health sector will absorb, on average, 19,500 new phlebotomy technicians every year over the next decade.
The above job openings will arise due to natural socio-economic causes like changing careers, retiring, or transferring to different locations. At the end of 2020, phlebotomy technicians held 129,600 jobs.
Below is a table that shows where phlebotomists will work in the economy as of 2020.
Employer                                                Number of phlebotomy technicians engaged
State, local, and private hospitals             51,000
Medical and diagnostic laboratories       40,000
Ambulatory Care Units                             19,000
Offices of Physicians                                    9,000
Outpatient care centers                               3,000
Others                                                            7,600
Total                                                           129,600
Source: U.S Bureau of Labor Statistics — Occupational Outlook Handbook
Job Outlook for a Medical Assistant
The U.S Bureau of Labor Statistics projects an 18% growth in the Medical Assistant job market from 2020 to 2030. In that same time frame, the employment projection averages around 104,400 new medical assistant technicians every year till 2030.
The job openings for medical assistants will change based on individuals changing careers, or retirement. At the end of 2020, phlebotomy technicians held 720,900 jobs.
Medical assistants held about 720,900 jobs in 2020. The largest employers of medical assistants were as follows:
| | |
| --- | --- |
| Offices of physicians | 57%% |
| Hospitals; state, local, and private | 15% |
| Outpatient care centers | 8% |
| Offices of chiropractors | 4% |
Source: U.S Bureau of Labor Statistics — Occupational Outlook Handbook
Start Your Phlebotomy Career Today!
Phlebotomy is a vital function in the health sector which explains the projected growth over the next decade. The Allen School has been a leader in medical assistant programs for over 60 years, training thousands of new healthcare workers like you. Our Medical Assistant Program includes phlebotomy courses to springboard you into your exciting new career in healthcare.
Ready to start working towards a new career? The Allen School of Health Sciences is offering virtual campus tours for enrollment for our classes starting soon. Contact the Allen School today! We cannot wait for you to become part of the Allen School family. Visit www.allenschool.edu to learn more.