Benefits of becoming a Medical Assistant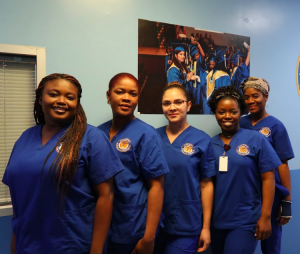 If you're looking to start your career in the healthcare sector, why not consider a career as a medical assistant?  With quick training periods, competitive salaries, dependable job growth, and fast-paced working environments, medical assistant training is an excellent route for people who are fresh to healthcare or who already have hands-on experience.
1. Get into the Job Market Fast
Between an undergraduate degree, medical school, and residency, it can take surgeons more than 15 years to obtain their full licenses. On the other hand, most medical assistant courses take less than a year before you can work in a professional setting. While there are no formal requirements to work as a medical assistant, most employers prefer applicants who have attended and graduated from an accredited medical assistant program. Completing a certified medical assistant program is often a requirement to get hired.
2. This Is a Career That Makes a Difference
Well-trained and professional medical assistants make a huge difference in a patient's hospital or clinic experience. From administering medicine to helping patients navigate insurance policies to preparing patients for examinations, many professional medical assistants find their work incredibly rewarding.  Medical assistants often mention their wide range of patient-facing responsibilities as a reason why they're proud to be part of this field.
3. Training Options Are Flexible
Multiple options for medical assistant programs exist throughout the country.  In many cases you'll be able to fit classes around your schedule. This offers many students the flexibility and opportunities to raise their family, hold a job, or attend extra classes while completing their medical assistant training.
4.  Learn with Exciting and Applicable Classes
Medical assistants are healthcare professionals who work between administration and treatment. During medical assistant training, students will study patient care, anatomy, sterilization techniques, and basic pharmacology.
5. There Isn't One Standard Work Day
The medical assistant job description is so varied that it's impossible for your shifts to be boring! Medical assistants are trained to perform a wide range of duties and are required to step in where they're needed the most. On any day, you could be speaking with an insurance agency, drawing blood, managing the front desk or helping take patient's vital signs. The job itself teaches you a valuable set of skills, including flexibility, analytical thinking, and the ability to work effectively within a team.
6. Different Working Environments
Some people like the fast pace of a surgical ward, general medical hospital, or trauma center. Others may prefer the quiet setting of a private physician's office. Smaller practices tend to rely on their medical assistants to handle both administrative and clinical duties, while medical assistants at larger practices and hospitals tend to focus on one or the other. Outpatient care centers, community health clinics, dental practices, and assisted living facilities also require medical assistants to provide quality care. Whichever you choose, if you're a desirable candidate, you'll have the flexibility of choosing one that best fits your personality and needs. 
7. A Great Start into the Medical Industry
In the medical world, experimenting with different career paths is a high stakes game. Training as a nurse or a doctor takes incredible time and effort, and it is not unheard of for these medical professionals to later discover that their chosen field wasn't the best fit. Why not start with a job that allows you to experience a wide range of aspects within healthcare? Medical assistants have an unbelievable vantage point which enables them to quickly learn whether patient care or medical administration is more their speed. Many go back to school to gain their nursing degrees or choose another specialty in the medical field.  If you are ready for more responsibility, many medical assistants move onto careers like sonography, nursing, and hospital management.
Think you might have what it takes, but are afraid to ask? Take part in one of our career planning sessions and discover the many healthcare paths available to you. Contact the Allen School today! We are enrolling now for our summer classes and cannot wait for you to become part of the Allen School family. Visit www.allenschool.edu to learn more.
-Allen School