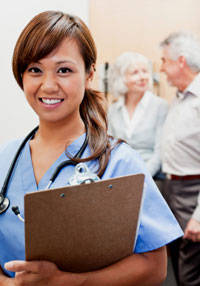 Remember the Rust-Oleum slogan (and subsequent Neil Young song), "rust never sleeps"?  Well,
medical office assistants
can relate to this idea, because like rust, human illness doesn't ever sleep either.  One thing about the medical industry, there is a never ending stream of customers because people will get sick in a bad economy just the same as in a good one.
Every winter in the Northeast where the Allen School is located and where students take courses for medical office assistant training, certified nursing assistant training and other related fields, the bitter cold and snowy weather makes for a challenging flu season.  This year was no exception.
According to the AP, "The season started earlier than normal, spiking first in the Southeast and then spreading. But now, by some measures, flu activity has been ebbing for at least four weeks in much of the country. Flu and pneumonia deaths have been dropping for two weeks, the Centers for Disease Control and Prevention reported.
'It's likely that the worst of the current flu season is over,' CDC spokesman Tom Skinner said in an email."
But that doesn't mean things will necessarily slow down for the working medical office assistant.  Being a medical office assistant means being busy all year round.