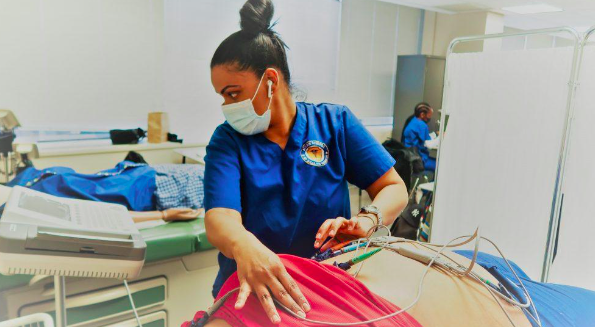 Medical Assistants provide patient care and perform administrative tasks in doctors' offices and clinics. If you are looking for a healthcare career that does not require you to attend medical school, then you might consider becoming a Medical Assistant.
An MA helps health care professionals such as physicians, provide patient care and ensure that medical facilities operate smoothly. If you want to gain experience before taking the next steps in your healthcare career or if nursing or medical school doesn't feel like the right fit, then a job as a Medical Assistant could be right for you. Through a mix of administrative work and direct patient care, you will help keep medical facilities operating efficiently, so doctors and healthcare professionals can do their jobs.
What does a Medical Assistant do?
Medical Assistants may have dozens of duties to perform each day and depending on where you work, they might include:
Greeting patients who come in for appointments
Assisting nurses with clinical duties
Answering phones, emails, and messages from online portals
Handling billing and insurance
Maintaining medical records
Scheduling appointments and procedures
Taking down a patient's medical history or list of symptoms
Cleaning and restocking exam rooms
Measuring and recording vital signs like pulse, temperature, and blood pressure
Explaining new medications to patients
Drawing blood or creating IV access
Performing basic diagnostic tests like EKGs
Caring for wounds
Removing sutures
Helping doctors and nurses with exams
Collecting and preparing laboratory specimens or performing laboratory tests on patients
Depending on the state regulations where you live and the preference of the facility where you work, your tasks may focus solely on either administrative work or clinical work.
Steps to becoming a Medical Assistant:
Obtain a high school diploma or GED. If you want to become a Medical Assistant then you will need to finish high school or get your GED. Typically, these qualifications are the minimum requirement to get into most medical assistant programs.
Work on your workplace skills. Medical careers are all about helping others in need. In order to be a good Medical Assistant, you will likely need certain skills in order to help both patients and other health care professionals. These skills include being organized, detail-oriented, having the ability to work on teams, being empathetic, having strong verbal and written communication skills and are able to work under pressure.
Brush up on your computer skills. Administrative tasks are a part of the job for many Medical Assistants; tasks that include maintaining records, handling bookkeeping, taking care of billing, and scheduling appointments on a computer. Many doctor's offices also use online portals to communicate with their patients.
Find accredited Medical Assistant programs. Once you've decided you want to become a Medical Assistant, you'll need to research and apply to accredited MA programs. The Allen School of Health Sciences Phoenix Campus is accredited by The Commission of the Council on Occupational Education (COE) and licensed by the Arizona State Board for Private Postsecondary Education. Our programs are offered in an accelerated blended format of online and in-person hands on learning in a clinical setting.
Complete an internship. Many Medical Assistant programs require you to complete an internship before you receive your certificate. Internships or externships can also make you more competitive as a job applicant. At the Allen School of Health Sciences our students complete 275 hours in their internship as part of our curriculum.
Get certified.  You can become certified by fulfilling certification requirements which often require exams. Some common certifications include the Certified Medical Assistant (CMA) certification which is offered by the American Association of Medical Assistants, and the Registered Medical Assistant (RMA) certification, offered by the American Medical Technologists. Some positions may also require you to be CPR-certified.
There are many other certifications available. Check with your school to find out what it recommends or look at job descriptions in your area to see if one is preferred over others.
If you are an enrolled student or graduate at The Allen School of Health Sciences, our Career Service team can: Introduce you to local medical offices, assist students with cover letters and professional resumes, go over solid interview skills including attire and talking points and provide internship opportunities.
Next steps:
If you have a passion for helping others and want your work to be something that really matters, maybe a career as a Medical Assistant is right for you. The Allen School of Health Sciences Phoenix campus is enrolling now for early acceptance to our summer classes. We cannot wait for you to become part of the Allen School family. Contact us today. www.allenschool.edu