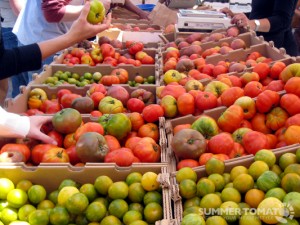 So Summer is definitely in full swing and judging by the limbs of the tomato plants growing on my stoop, the summer tomato bounty is going to be a large one in this blogger's household.  As medical office assistants, or even certified nursing assistants, it would be good to be knowledgeable about nutrition.  In fact, it would be good for everyone to know more about healthy eating.  But as protectors of public health, medical office assistants and certified nursing assistants are on the front lines, where patients with real medical issues meet medical practitioners seeking insights into health and wellness.  Here's the skinny on why tomatoes are a wonderfully healthy inclusion into anyone's diet. According to nutritionist Cheryl Forberg,
"They [tomatoes] are high in lycopene. Lycopene is a phytochemical found in tomatoes (and fruit such as watermelon and pink grapefruit) that has potent antioxidant properties. Some studies have suggested lycopene may help decrease the risk of prostate cancerwhile working in concert with other nutrients.
Tomatoes are also high in vitamin C, vitamin A, potassium and fiber. One medium tomato is approximately 95 percent water and has 22 calories. One cup of fresh tomatoes provides more than 57 percent of the daily value for vitamin C, 22 percent of the daily value for vitamin A and almost 8 percent of the daily value for fiber."
So whether you're still studying certified nursing assistant courses or taking medical office assistant training, you're sure to one day be working in a physician's office or hospital.  This seasonal knowledge about one of summer's most beloved fruits (vegetables?) is sure to be a useful tidbit you can share with patients.  Now go on out and enjoy yourself some healthy summer tomatoes too!  They're nutritious AND delicious!