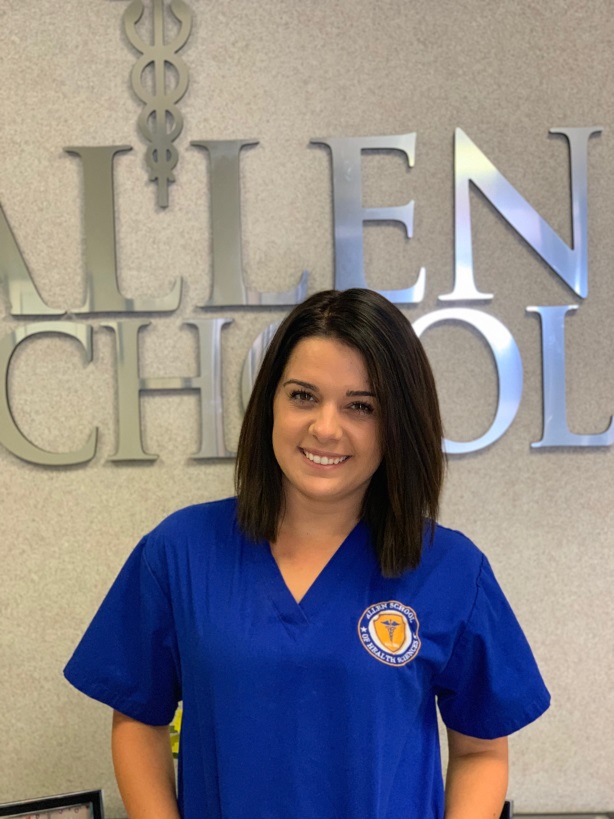 Helping individuals has always been a passion of mine. It wasn't until I woke up to a phone call that changed my life forever. My mother & grandmother had gotten into a car accident. I remember being in the hospital with my 3 year old baby boy, not able to help ease their pain. Being home wasn't making me think about the situation any less, so I returned to work.
Sitting at my desk I came across an ad for the Allen school, & had a very strong feeling telling me to fill out the contact form. Not long after I received a call from Nicole, who is one of the most amazing Academic Advisors I have ever met. She had me come in, tour the campus & talk to some of the students and instructors. I then met Dr. Hunt, who is not only the school director, but she is also one of the best instructors and someone I strongly look up to. I often think "One day I want to be like her".
Once I got accepted, I felt like my life was slowly coming together. I am very grateful for all of the staff, instructors & students that I can now call friends. All of these wonderful people push me to not only become a better person, but a successful healthcare provider, so I can provide a better life not only for myself, but for my little boy as well. Choosing Allen School was one of the best decisions I have ever made. One day I hope to not only become a Medical Assistant, but also expand my horizons to becoming a Cardiologist.