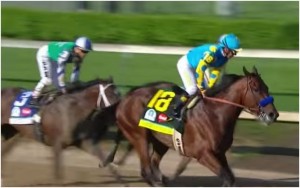 What can we take away from watching American Pharoah win the Triple Crown – the first horse to do so in 37 years? One lesson writ large in the momentous achievement of this exciting horse race is that making something great happen in your life is always a challenge.  Good things do happen but sometimes you have to make an enormous effort, suffer countless setbacks and errors, and overcome a lot of handicaps in order to achieve your goals.   Getting yourself situated to earn a better living and enjoy
a more stable work life means investing time and effort into studying to become a medical assistant
or taking online medical billing courses between your day job and your taking care of your family. Consider the fact that for the last 37 years, many absolutely amazing horses have tried and failed to win the Preakness, the Kentucky Derby and the Belmont stakes.  And for 37 years,
all failed.
  Consider the fact that American Pharoah's jockey, Victor Espinoza had lost two prior attempts at Triple Crown greatness including last year's loss by California Chrome in the Belmont stakes.  Consider that the American Pharoah's name is
spelled wrong (its spelled 'pharaoh')! 
All these flaws, losses and defeats, when met with redoubled effort and focus on the goal at hand, are converted from defeat to victory; from failure to momentous achievement.  You can do the same thing in your life.  You don't have to suffer with a dead end job.  You can live and earn better and with tools like medical assistant classes with the Allen School, you can achieve the greatness you desire in life.