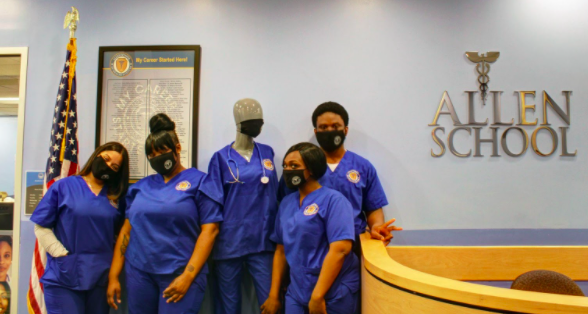 As a professional entering the field of health care, there is a lot to consider when searching for a new position. Graduating from the Allen School of Health Sciences you can feel confident knowing you are equipped for employment across the healthcare industry. The proper credentials and experience gained with graduating from the Allen School can make the job search and application process easier.
The next step is tackling the interviews, which can be daunting for even the best-prepared candidate! Prior to sitting down for an interview, consider these tips for securing the position:
Showcase your education and training When you walk into an interview, the ball is in your court. You have the ability to paint a vivid picture of who you are as a person, what professional skills you possess, what your ambitions are and how you would face pressing healthcare issues. Your grades and certifications are already in writing so go beyond that to show the employer the kind of role you would play in their organization or agency. Don't be afraid to propose new ideas and solutions for current health care challenges.  This can lead to discussions that your interviewer will be thinking of long after you've walked out the door. Remember they need you just as much as you want the role!
Incorporate your professional experience Even if you have the highest test scores and certifications, an employer will still want to know about your hands-on training and experience in the field. The Allen School of Health Sciences is a prime example of this. Through hands-on learning and internships at our clinical sites, you can gain the necessary skills needed to work in health care. Using anecdotes to highlight your experience as an intern or volunteer can help showcase the wealth of knowledge and critical thinking skills you have gained thus far. These stories can demonstrate how you think and respond to problems or conflict.
Be prepared with questions for the interviewer One of the most basic rules of any interview, no matter the field, is always to be prepared with a list of questions for your interviewer. Asking career-oriented questions, both personal and organization-based, demonstrates not only your interest in the company, but conveys your ambitious and forward-thinking attitude in the field as well. Take this opportunity to express your excitement about the position and the possibilities for the future. The hiring managers will want to know that their investment in you as an employee is worthwhile and by demonstrating your enthusiasm to take on your new role, they will see that their time and money invested will in fact pay off. Do your homework. Look into the company of which you are applying so you can ask questions pertaining to them specifically.
Contact the Allen School today! We are enrolling now for classes starting soon. We cannot wait for you to become part of the Allen School family. Visit www.allenschool.edu to learn more.
-Allen School