Tips for Remote Learning During Coronavirus Outbreak
As COVID- 19 cases continue their upward trend, many schools are closing their doors post-spring break in hopes of preventing the spread of the disease. For students who aren't
used to remote learning, it can be a stressful and unwanted change. That's why the Allen School of Health Sciences is doing all we can to ease that transition by establishing a blended
format of traditional and online learning; Integrating a blended format of online work into your in-person classes.
Some schools, however, may struggle through the next few weeks as they figure out how to make the jump from in-person learning to online learning. If you've suddenly found yourself shifted from in-person to online learning, we've got some tips that will help you make the best out of a bad situation.
1. Keep calm and check your email. 
It's important to remember that everyone is still figuring out what to do with regards to the COVID-19 outbreak. You must take the time to check your email at least once a day, if not more. The Allen School will likely be sending out regular emails that will keep students abreast to any changes. Additionally, it's critical to check your email for messages from your professors or instructors.
This is your main avenue of communication during this time. For many instructors, it's going to be a total "figure it out as you go" situation. Checking your email as well as any message services your school's online course may have, is the best way to ensure you won't miss a thing.
2. Plan your time wisely. 
If you can manage it, try to sit down and work through any projects as consistently as possible. If you were already attending school for a block of time every day, use that time to work on your remote assignments. If you can't, aim to block out a few hours in the evening for keeping on top of your work. Those who haven't had much experience in online learning may feel the urge to do the work at the last minute. Here's a helpful tip: DON'T. It's better to do the work early and often, as there will likely be times you need additional feedback. By waiting until the last minute, you most likely won't get a sympathetic ear from your instructor.
3. Know what tools you need. 
Depending on the class, you may need to figure out what kind of tools can help you the best. Others may require you to use a computer—especially for quizzes and tests. Make sure to heed warnings about which browsers you should be using—not every online course will work with every browser.
4. Relax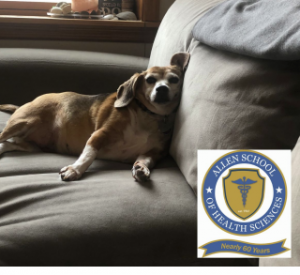 Don't stress out so much about the changes and challenges that bubble up. The situation is rapidly changing every day, and everyone is learning as they go. It's best to recognize that, at best, it's going to be a bumpy month or so. Your school is likely working out the kinks, and as long as you keep your eyes open and manage your time wisely, you'll be able to adapt to whatever comes your way. In order to protect our community during the COVID-19 crisis, The Allen School of Health Sciences is offering virtual campus tours for enrollment of our upcoming classes. Contact the Allen School today!
We cannot wait for you to become part of the Allen School family. Visit www.allenschool.edu to learn more. -Allen School