Traits of a Medical Assistant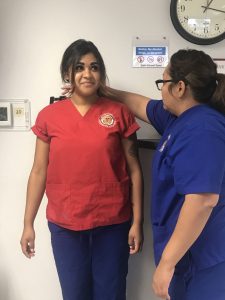 If you are thinking of a career as a Medical Assistant, you could be on track to a rewarding career with great job prospects. According to the U.S. Bureau of Labor Statistics, the job outlook for Medical Assistants through 2022 is expected to be a whopping 29 percent growth rate, much faster than average compared to other jobs. But do you have what it takes to be a part of this rewarding profession? Here are the essential traits you'll need:
1) Compassionate: Do you like to help others? A caring and compassionate nature is one of the most important qualities you'll need as a medical assistant. When patients are sick, in pain or just scared about what's happening to them, they really want a friendly face and caring attitude. Could this be you?
2) Good Communicator: Medical assistants often serve as a liaison between patients and other caregivers. You'll need to be a good listener, so you know your patients' concerns and a good communicator to relay that information to others. You may also need to translate what doctors and other health care providers are saying so patients really understand.
3) Ethical: Everything you see and do as a medical assistant may be protected under rules of patient confidentiality, so you really need to be able to keep a secret. Patients are sometimes at their most vulnerable when they come to see their doctor. They shouldn't have to worry that something they say or do will be shared inappropriately.
4) Organization Skills: Whether you're helping in the front office with patient appointments and insurance information or taking patient histories, you need to keep everything you do well-organized. Small mistakes can cause big problems and one of the best ways to avoid them is to stay organized!
5) Outgoing: You'll need to interact confidently with a lot of different people throughout your day as a medical assistant. You may also want to speak up on behalf of patients who aren't feeling well or aren't able to speak for themselves. Medical assistants often serve as patient advocates and help them understand all that's going on around them.
6) Adaptable: Healthcare environments are often fast-paced and quickly changing. You may need to assist several patients or just one at a time. And what may work well in one situation may not be as effective in another. Your ability to roll with the punches will help you help your patients!
 7) Team Player: The best of today's healthcare systems is run like good teams where everyone has their job to do, but they all work together as a team. If you're a true  team player, you'll be able to follow directions, do your job well, and always place the needs of the patients first.
Are you thinking about a new career as a medical assistant?  If so, please contact the Allen School today! We are enrolling now for our summer classes and cannot wait for you to become a part of the Allen School family.  Visit www.allenschool.edu to learn more.
-Allen School