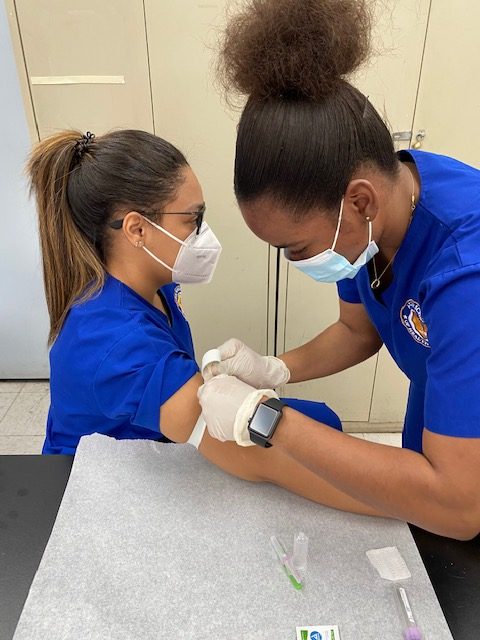 Traits of a Successful Medical Assistant 
Be it in a large hospital or small family practice, Medical Assistants are a necessary part of any healthcare organization. MA's are essential healthcare professionals performing both clinical and administrative tasks. On any given day, an MA can find themselves answering phones, taking electrocardiograms, scheduling appointments, dealing with bookkeeping, or explaining a treatment plan to a patient. The world they live in is diverse, demanding, and necessary. The following are some of the personality traits that make for successful Medical Assistants.
Positivity
Medical Assistants are often the face of healthcare. They greet patients, answer telephones, and talk people through what's happening with a given procedure or test. It's common for patients to feel anxious or worried during an examination or treatment, so a positive attitude from the healthcare worker changing their dressing or running a test can make all the difference in a patient's morale.
If a MA feels good about their job and their environment, then the patient will feel better about being a patient. A smile, an understanding answer to a question, or a reassuring explanation of a test are essential to effective healthcare.
Empathy
Healthcare workers often encounter patients at moments of vulnerability. MA's will occasionally find themselves in a position where they are the closest human being to someone in a moment of emotional crisis. When that happens, it's necessary for an MA to maintain their composure and have an appropriate empathic response to the patient.
Being a healthcare worker is a technical job, but it's also a deeply human and caring one. Empathy will be essential for any MA in any patient interaction, be it routine or not.
Professionalism
Both the clinical and administrative sides of healthcare depend on an MA. They take medical histories, conduct blood draws, EKA tests and blood pressure. Care and precision are important in every situation, and there is often little room for error. Dedication to accuracy and precision will serve an MA well in all avenues of their professional career, and, in turn, their accuracy and precision will better serve others.
Integrity
Integrity is one of the Allen School of Health Sciences core values, and for good reason. As we say in our statement of values, EDUCATE:
• Education Quality & Integrity
• Dedication
• Understanding of Others
• Communication & Consistency
• Advisement & Achievement
• Teamwork & Technology
• Excellence.
Doctors, nurses, hospital administrative staff and most importantly patients depend on the work that Medical Assistants do. When an MA medical begins a shift, they are not just clocking in at work, they are devoting themselves to a career of service to others. At the Allen School of Health Sciences, we are devoted to fostering the necessary positivity, empathy, professionalism, and integrity in future MA's.
In order to protect our community during the COVID-19 crisis, The Allen School of Health Sciences is offering virtual campus tours for enrollment for our classes starting soon. Contact the Allen School today! We cannot wait for you to become part of the Allen School family. Visit www.allenschool.edu​ to learn more.
-Allen School