Medical Assistant: Traits of a Successful Medical Assistant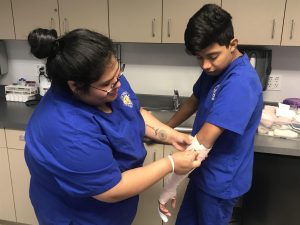 It's no secret that the healthcare industry is one of the biggest industries in America. What might not be as obvious is the fact that you can have a prosperous career in the field without becoming a doctor or nurse. One occupation students might want to consider is that of a Medical Assistant.
A Medical Assistant, or MA, is someone who aids doctors, typically in offices and healthcare clinics, with administrative and clinical tasks, according to the American Association of Medical Assistants (AAMA). An MA can check blood pressure, direct patients through the office, and perform a myriad of administrative tasks. Other common responsibilities of an MA include maintaining patient records, scheduling appointments, sanitizing medical equipment and helping physicians with examinations. Let's examine a few traits that successful MAs embody in their job:
Medical Assistants need good communication skills
Communicating is a fairly significant part of an MA's job. Medical Assistants communicate with doctors, patients and each other to keep the office or clinic functioning effectively. Medical assistants who work more on the administrative side may serve as intermediaries between the doctor and patients or the doctor and health insurance companies.
Medical Assistants are team players
Medical Assistants are, in many ways, the glue that holds physicians' offices and healthcare clinics together. With this in mind, it is important that they are team players and willing to do the work that is necessary to efficiently provide patients with the proper care. Feeding off the prior point about communication, part of being a team player is communicating with those with whom you work with. Being a team player can increase synergy among you and your co-workers, in addition to the obvious advantage of completing the work required to run the office or clinic.
Medical Assistants have strong attention to detail
Paying attention to detail is another quality that successful MAs exemplify in their work. This is not limited to cases in which an MA is permitted to administer drugs to patients and need to accurately measure the dosage. It is also crucial in the maintenance of patient records, scheduling and taking vitals; to name a few other examples.
Medical Assistants have a lot of compassion
Compassion is another trait that successful MAs embody. Medical Assistants are often responsible for ensuring that patients are comfortable during their visit to the office or clinic. As mentioned earlier, Medical Assistants serve as a point of communication between patients and doctors. Offering compassion and understanding of a patient's concerns can go a long way towards their overall satisfaction with medical care. Medical Assistants can take comfort, pride and satisfaction in knowing that they helped change a patient's life for the better.
Medical Assistants always have a willingness to learn
Medical Assistants are responsible for performing a multitude of different tasks throughout doctors' offices and healthcare clinics. They are skilled in both clinical and administrative aspects of running an office or clinic. With this in mind, it is important for an MA to show the willingness to learn new skills as required by the doctors under whom they work. Changes such as new technology used in offices and clinics necessitate an MA to adapt to such updates. Being a "jack of all trades" can provide Medical Assistants with a degree of variety in the everyday happenings of their jobs. In many cases there are things within an office or clinic that an MA can help with, even though they might not be in the job description.  Armed with an array of skills, Medical Assistants can work in many different realms of medicine, exploring different disciplines and discovering what they are passionate about. Medical Assistants have the opportunity to specialize in a certain type of medicine, teach students who also want to be Medical Assistants or even become the office manager. Many also go back to school to expand on what they learned as an MA and land an even better job.
Launch your Medical Assistant career at the Allen School of Health Sciences.
Perhaps you feel that the traits in this post describe you and you are now thinking of studying to start your career as a medical assistant. For prospective medical assistants there is one clear choice for an accelerated training program: Allen School of Health Sciences. The Allen School of Health Sciences medical assistant program thoroughly prepares you to enter the healthcare field as a Medical Assistant. The program can be completed in less than a year.
 To learn more about our health care programs and externships, contact the Allen School today! We are enrolling now for our fall classes and cannot wait for you to become part of the Allen School family. Visit www.allenschool.edu to learn more.