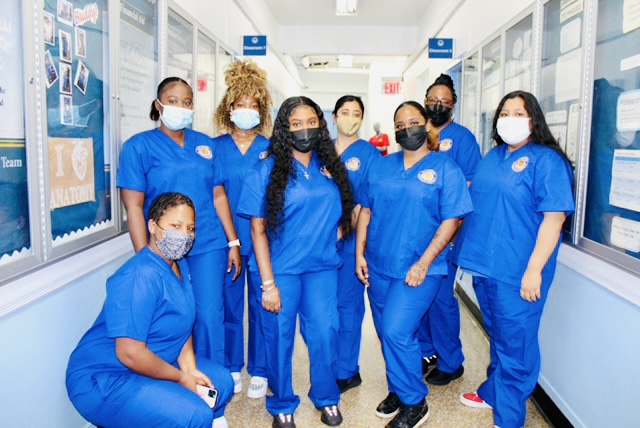 U.S. Bureau of Labor and Statistics
projects that healthcare will become the most significant employment sector by 2027. Fortunately, this growth presents a high demand for healthcare managers who are self-driven, innovative, and can perform their duties with ease. In today's guide, we will explore what a career in Healthcare Management looks like and what a Healthcare Manager does. Being supportive and compassionate is a top priority being a Healthcare Manager. Healthcare Managers also need good communication skills and excellent business sense. While you may work with a team in this position, you must also be prepared to work alone. Being responsible for upholding your medical facility's rules, policies, and standards is just one job area.
What's the Difference Between Healthcare Management and Other Closely Related Fields?
Healthcare Management consists of the administration, healthcare managers, and information managers. Some positions in the healthcare management field are covered in our classes. You will gain skills in Human Resources, Informatics, Healthcare trends, and Billing/Coding. As a Healthcare Manager, you are responsible for the entire facility, specific needs for the facility, and initiatives. Meanwhile, healthcare administration focuses on budgets, staffing, and day-to-day operations.
How do I Get My Healthcare Management Certificate?
Are you prepared to be a leader? Do you understand how trends shape today's healthcare market? Allen School's Healthcare Management Certificate program has exceptional opportunities available for students to earn optional additional credentials through their coursework and certification exams.
"How much can I make as a healthcare manager?"
In this rapidly growing area of the industry, your salary depends on your level of experience, the certificates you have earned, and your specific role within the facility. The state you work in also determines how much you'll make as a healthcare manager.
Common Healthcare Manager Roles
High-Level Day-to-Day Responsibilities:
Healthcare Managers perform various activities, ranging from directing, planning, and coordinating clinicians and practitioners, among other activities, in a hospital setup. Responsibilities also include:</p.
Oversee the routine activities of employees and different working groups.
Act as a departmental head overseeing a working department.
Coordinate an organization's system-wide core functions such as revenue, employee satisfaction or efficacy.
Coordinate Departments and Steer Innovation:
Good healthcare and service delivery are any healthcare institution's core drive. Given the sensitive nature of the healthcare industry, healthcare managers can show they can deliver steady and compliant services by understanding and embracing the following factors:
Stakeholders: A healthcare manager coordinates a host of different stakeholders as they guide them towards a common aim. Stakeholders such as insurance companies, suppliers, doctors, legal teams, and more have a keen interest in a hospital's standard operating procedure.
Policies: In the healthcare industry, policies aren't constant. They keep changing—and for good reasons—depending on federal and state regulations. Stay on top of these changes as a manager and ensure you communicate them to employees for implementation.
Accountability: As a manager, part of your scope of work is the ability to show efficiency in coordinating a healthcare facility's operations, especially when dealing with health regulatory bodies.
Technology: Innovation goes parallel with technology. A healthcare facility needs to keep adapting to new technology to ensure seamless service delivery. But that's not all; adopting new technology before it gets phased out is one area a healthcare manager prioritizes for the healthcare facility's best interest.
Steering the innovation wheel in a hospital starts with careful planning and strategy. When done correctly, managers can expect positive results in patient care handling and other facets of a hospital.
Team Management
How you manage a team can break or make the success of a healthcare institution. For starters, gaining leadership and team collaboration skills will come in handy. Once you have these skills stacked up in your arsenal, use the following techniques for effective team management:
Healthcare Management acts as a bridge in the day-to-day activities of an organization.
They need to be open to change, allow staff to voice their concerns, and embrace a holistic approach to patient care.
They must promote better operational strategies your team can use.
As you grow into a Healthcare Manager role, you'll quickly realize that coordinating team initiatives is in your best interest. This way, you can resolve workflow issues without affecting patient care.
Influence Healthcare Culture
At a managerial level, Healthcare Managers don't just influence decisions, but also shape an institution's culture from the top down. For instance, a manager who embraces gender and racial equality in their places of work will set the right precedent for attaining improved equity. Other ways to influence the workplace culture are:
Have on-site medical translators to ensure service delivery reaches underrepresented groups.
Set all-inclusive internal hiring policies for minority groups and people of color.
Provide continuous cultural training for employees.
Choose the Allen School of Health Sciences
Starting a career in Healthcare Management begins with the proper education. If you've been thinking about getting into Healthcare Management as a long-term career path but don't know where to start, your
Medical Assistant Training program
may be the right path. At
Allen School
, we strive to make healthcare education convenient, rewarding, and fun.
Get in touch
today and become part of the Allen community.