Where Do Medical Assistants Work?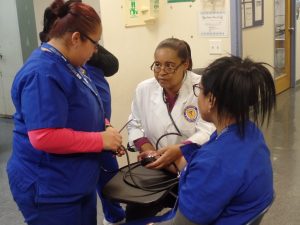 Public and private hospitals, the VA, clinics, retirement homes, specialty providers — the scope in the health care world can be overwhelming, but that's exactly what makes it a viable industry in which to pursue a career. These facilities are staffed with far more than doctors and nurses. With countless professionals carrying out endless duties in the office and during medical procedures, it can be hard to determine exactly what role best matches your skills.
If you know you enjoy working directly with patients without spending eight years in college to become a licensed physician, then it's possible you've thought about working as a Medical Assistant. Depending on what program you enroll in, you could begin making an impact in the healthcare field in less than one year. While you know Medical Assistant job duties match your abilities and passions, there's still one concern on your mind: Where do Medical Assistants work?
The good news is that there are tons of places you could work. When you've completed your Medical Assistant courses, you can begin searching for an employer in the setting that feels best for you. Here are five environments you could find yourself working as a Medical Assistant:
Clinics — Easily the most common employers of Medical Assistants are health clinics. According to the U.S. Bureau of Labor Statistics,

(https://www.bls.gov/ooh/healthcare/medical-assistants.htm#tab-3)

about half of all Medical Assistants work in this sort of environment. For the most part, the duties at a clinic are usually predictable regarding hours and specific tasks. Many of these facilities have set hours of operation and are not as likely to be open on weekends or major holidays as some businesses might. But, of course, not all clinics function in the same way, and there's truly no typical medical assistant day. Many clinics focus on specialties like optometry, podiatry or neurology, while others address family practice and internal medicine.
Primary care facilities — Another common place medical assistant work is in hospitals and private practices. In these facilities, medical assistants help doctors, nurses and other staff members with administrative and clinical tasks, which are numerous in these types of office setting. Given that doctors' offices and urgent care clinics can be located almost anywhere in the U.S., and hospitals are just as easy to find, medical assistant jobs are available all over the nation. This will give you more mobility and flexibility in where you live and work, since your abilities are needed everywhere.
Medical labs — All worthwhile medical assistant programs involve tutorials in collecting or processing lab specimens. This basic skill is required by many clinics before you can handle blood samples or other lab specimens, but another benefit is that this skill is beneficial for work as a lab assistant. Universities that conduct research studies rely on medical assistants to aid their faculty and scientists with the experiments conducted in the lab. Many corporations also carry out medical research and development, which presents additional hiring opportunities.
Chiropractors' offices — Chiropractic offices often need to employ medical assistants since they essentially function like other types of medical practices. Even though their services are specialized, these offices create the need for administrative duties well suited for medical assistants. Any interest or history you have with chiropractic medicine could give you a distinct advantage over other applicants for this role.
Retirement communities — The aging Baby Boomer population is going to keep the need for medical assistants at nursing/retirement homes at an all-time high. Nursing homes and other senior care facilities often offer health care services as part of their amenities. Many retirement communities operate more like neighborhoods where senior citizens comfortably enjoy their golden years with medical care services close at hand.
Once you embark on your externship, you'll have a tremendous opportunity to learn more about the places you're qualified to work. And when you finish your medical assistant program it's time to job hunt, you can find an opportunity in a hospital, clinic or other office setting that's ideal for you! At the Allen School of Health Sciences, we are committed to preparing our medical assistant students for employment as soon as they graduate.  This is the reason why externships are such a critical component of our curriculum. If you are interested in becoming a medical assistant, you can earn your certificate in less than a year. We are enrolling now for our summer classes.  As always, we would love to hear from you! Visit www.allenschool.edu to learn more about an exciting career as a medical assistant.
-Allen School