Why Medical Assisting May Be a Better Choice for You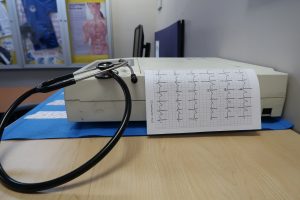 If you're searching for a healthcare career that goes beyond drawing blood, and where there's greater job opportunity for fresh graduates, it's worthwhile considering enrolling in a medical assisting training program. There is so much versatility in the skills of medical assisting,
Medical assistants check in and prepare patients for the doctor; take patient's medical history; perform vitals and EKGs, administer injections; undertake suture removal and dressing changes; answer phones; schedule patient appointments; provide patient education and explanation of treatment procedures; and assist the doctor in office procedures.
Graduating from a medical assisting program that offers medical assisting, phlebotomy, and EKG certifications makes you a highly sought-after and competitive job candidate.
Unlike phlebotomy employers, hospitals and physicians' offices seeking to hire medical assistants are usually open to hiring fresh medical assistant graduates with only their externship experience boosting their resume work history.
Which Healthcare Training Is Going to Provide You with the Career You Want?
The Bureau of Labor Statistics reports that medical assisting occupation in 2016 consisted of 634,400 jobs nationally, much higher than for phlebotomists at 122,700 jobs. In addition, the Bureau of Labor Statistics shows the medical assistant job market having 29% growth, much faster than the average (https://www.bls.gov/ooh/healthcare/medical-assistants.htm). With this kind of job market, does training to become a medical assistant make more sense to you? If you're considering a phlebotomy career because of the shortness of the course, realize a quicker healthcare training course doesn't necessarily mean quicker healthcare employment. Other hiring factors are in play. As with any career, there's no such thing as an overnight success. And often the more work you put into an endeavor, the greater the rewards (or outcome). Is it a good time to ask yourself: which healthcare training is going to provide you with the healthcare career you want? The choice is yours.
Do you think you have what it takes to become a medical assistant?  If so, contact the Allen School today! We are currently enrolling for our summer classes and cannot wait for you to become part of the Allen School family. Visit www.allenschool.edu to learn more about a rewarding career as a medical assistant.
-Allen School
CONTACT US