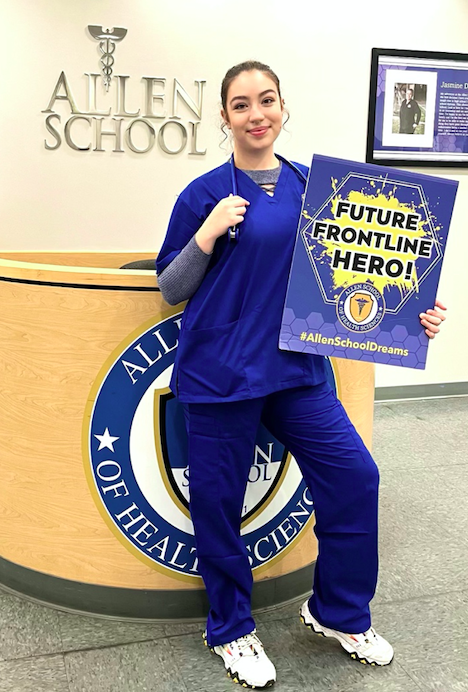 There are several reasons why a high school graduate may choose to start their medical career as a Medical Assistant.
1. Gain Hands-On Experience:  Becoming a Medical Assistant provides an opportunity to gain practical experience in a healthcare setting; This experience can be valuable when considering further education or specialization within the medical field. At the Allen School of Health Sciences, we offer a blended program of online and hands-on learning in an interactive clinical setting.
2. Explore Different Medical Specialties:  As a Medical Assistant, one may have the opportunity to work in various departments or specialties, such as pediatrics, cardiology, or dermatology.  This exposure can help individuals determine their areas of interest and decide on a specific career path within medicine.
3. Develop Essential Skills:  Medical assisting involves a wide range of tasks, from taking patient histories and vital signs to assisting with minor procedures and administering medications. Acquiring these skills can be beneficial for personal and professional growth, as they are transferable to other healthcare roles. You will develop the essential skills as a Medical Assistant at the Allen School of Health Sciences. As part of the curriculum at the Allen School of Health Sciences, students will complete 275 internship hours which allows our students to develop the necessary skills to become a successful Medical Assistant; allowing our students to work in the field to develop their skills before graduation.
4. Financial Stability:  Starting a medical career as a Medical Assistant can provide a stable income and financial independence.  It can also serve as a stepping stone for further education and specialization, which may lead to higher earning potential in the future.
5. Fulfilling Patient Interaction:  Medical Assistants often have direct patient contact providing care, support, and reassurance to patients.  This interpersonal aspect of the job can be rewarding and fulfilling, as it allows individuals to make a positive impact on patients' lives.
It's important to note that while starting as a Medical Assistant can be a beneficial career choice, further education and specialized training may be required to advance to higher-level positions in the medical field. To learn more about becoming a Medical Assistant, contact the Allen School of Health Sciences today! We are enrolling now for classes starting soon. www.allenschool.edu