Guest Blogger – Zippi Dvash, Asst. VP of Public Affairs for Long Island College Hospital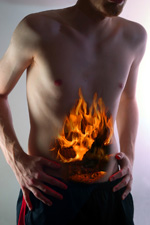 Heartburn is a "burning" problem for over 60 million Americans each month. Recent surveys show that 66% of people experience heartburn symptoms after splurging on food and alcohol, such as the large meals, rich desserts and alcohol consumed around Christmas and New Year celebrations.  Do you suffer from this problem?  Follow me below the fold for some useful information.
"Over the years we have seen an increase in the number of patients complaining of severe heartburn, mainly triggered by excessive eating and drinking," says Kirk Zachary, MD, a gastroenterologist at Brooklyn's Long Island College Hospital (LICH).  "We recommend they reduce portions and spend extra time exercising – walk to and from the restaurant instead of driving or taking a cab."  
What Is Heartburn?
Despite its name, heartburn doesn't affect the heart. It occurs when stomach acid backs up into the esophagus (food pipe), causing a burning feeling in the lower chest, along with a sour or bitter taste in the throat and mouth.  Most people experience heartburn after eating a big meal or while lying down. The feeling can last for a few minutes or a few hours.  The symptoms are hard to ignore.
"Heartburn is common, and an occasional episode is generally nothing to worry about," says Dr. Zachary.  "Frequent heartburn, however, can be a serious problem, and it deserves medical attention, as it is the most common symptom of gastroesophageal reflux disease (GERD) – a far more serious medical condition."
What Triggers Heartburn
Heartburn is most common after overeating, when bending over or when lying down.  Simple medications such as aspirin can increase heartburn, as can everyday stress.  The most common causes, though, are food and beverage.  Dr. Zachary has created a list of foods and beverages that can aggravate heartburn symptoms:
Chocolate

Alcohol

Coffee (both regular and decaffeinated), caffeinated drinks, carbonated drinks

Fatty foods, fried foods or spicy foods Onions

Red sauces such as ketchup and marinara sauce
How To Prevent Heartburn
In addition to reducing food intake at that special dinner with your loved one, Dr. Zachary also suggest the following prevention methods:
Don't overeat

Avoid deep-fried foods

Wait at least 2 to 3 hours after a meal before laying down. If you take naps, try sleeping in a chair.

Avoid tight clothes and tight belts.
 "Over the counter medications such as antacids will take care of most heartburn," says Zachary.  "But the most important thing to love before the holiday is moderation."