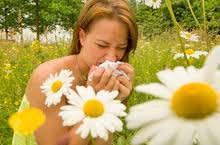 You're a
medical assistant
or a certified
nursing assistant.
  People come to your workplace seeking relief from the entire range of ailments and disabilities.  They count on their doctors, nurses, CNAs and medical assistants to be compassionate and comforting.  So it would not be comforting to them to bring their ailments to someone whose face is puffy, eyes and nose are runny and who is sneezing uncontrollably.  But if you, like millions of Americans suffer from seasonal allergies, you may find it difficult this time of year to put forth the healthy, comforting image expected of a CNA or medical assistant.  Yet, you cannot simply take a month off while the pollen cycle occurs.  So what can you do?  You don't want to take too much over-the-counter allergy meds which may make you foggy and drowsy.  That wouldn't set an ailing patient's mind at ease either would it?  There are alternatives to the standard medicines which may work for you if you take the time to try them. 
Time
magazine has a brief article out about some
non-traditional allergy remedies
already in widespread usage in Europe.  Not as popular here in the US yet, these treatments seem to produce decent results in the recent studies performed here in the US.  My grandmother used to swear by the strategy of taking a teaspoon of locally produced honey each morning during the pollen season.  For her, it always helped keep the sneezing and runny eyes at bay.  Do you have any alternative allergy remedies you know of?