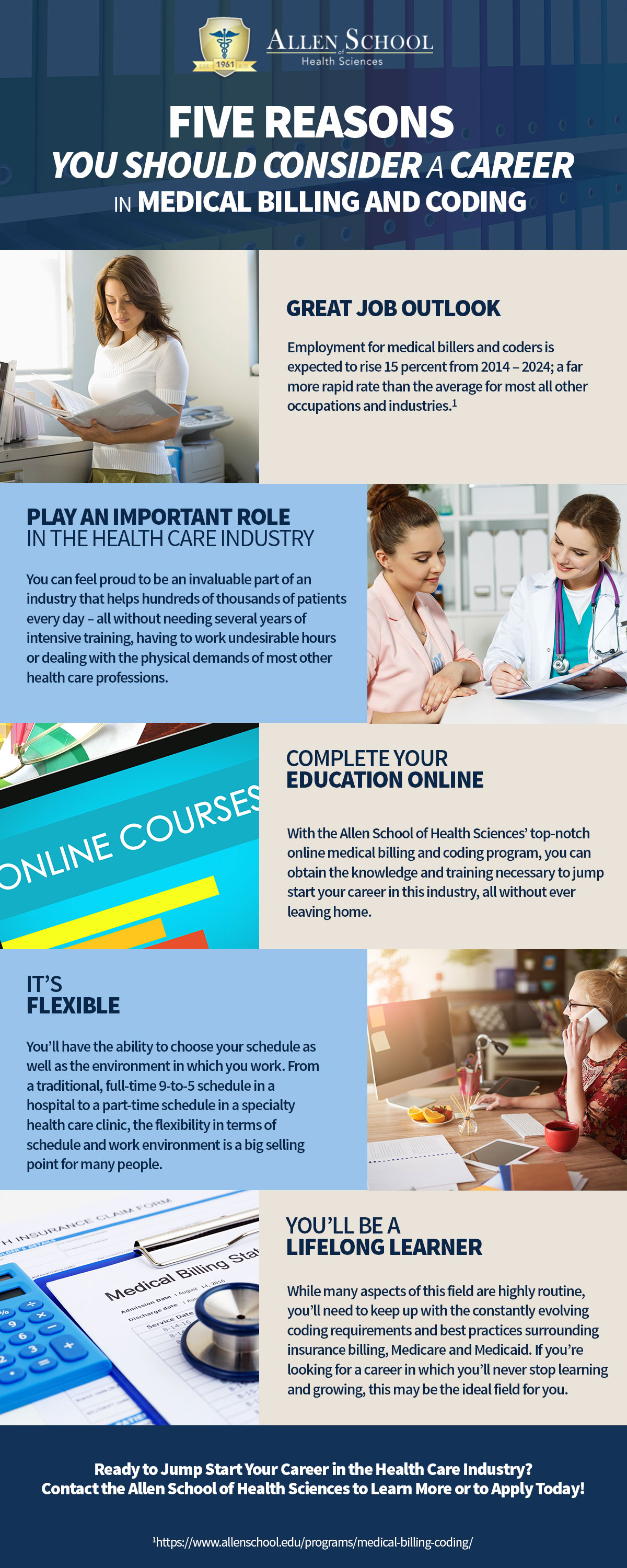 Whether you're just entering the workforce or you're contemplating making a career change, there are countless benefits of selecting medical billing and coding as your chosen field. Here are just six of the many reasons this is a career path worth considering.
It's in demand. The employment outlook for medical billers and coders is expected to increase 15 percent from 2014 to 2024 – a significantly faster rate than the average across all other occupations and industries. Plus, now that more people in the U.S. have access to quality health insurance coverage, the demand for health services and jobs within the health services industry is expected to continue to increase.
You play a critical role in the health care delivery system. Becoming a medical biller and/or coder enables you to play a vital role in the health care industry without needing years of extensive training, having to endure the physical demands of many other health care professions or having to work particularly long/undesirable hours. People in this profession also feel proud knowing they're part of an industry that helps hundreds and thousands of patients each day.
You have the option to complete your education 100% online. The Allen School of Health Sciences offers online medical billing and coding courses so you can obtain all the skills and knowledge necessary to begin an exciting and rewarding career all without ever leaving the comfort of your home.
It's flexible. As a medical billing and coding specialist you'll have the freedom to not only choose whether you work part-time or full-time, but also the environment in which you work. From hospitals and doctor's offices to outpatient surgery centers and specialty health care clinics, the options are virtually endless. If this unique level of flexibility is something you've been searching for in a career, then medical billing and coding may be the perfect choice.
You will keep learning and growing throughout your career. One of the key factors in determining a person's long-term job satisfaction is having the ability to continue learning, growing and adapting without being overwhelmed or set back by new challenges. This is something you'll undoubtedly experience in the field of medical billing and coding. Sure, many aspects of this profession are routine in nature, but the constantly evolving coding requirements and best practices regarding Medicare, Medicaid and insurance billing will keep you alert, active and constantly growing as a professional.
It's easier to master than you may think. Many people have the tendency to assume this profession is quite difficult simply because the title contains the words "billing" and "coding," which often brings to mind professions involving math, accountancy, computer coding, etc. In reality, this career field is far easier to master and enter than many people realize. Click here to see for yourself!
Looking for a Way to Get Into the Health Care Industry?
You've come to the right place! To learn more about the Allen School of Health Sciences' top-notch online medical billing and coding program or to begin the application process,
contact us
online today to get started. We hope you'll give us the opportunity to make you our next great success story!