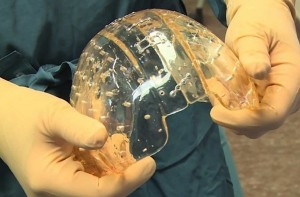 As a certified nursing assistant, you probably won't be performing any brain surgery.  That said, it is still interesting to note whenever a breakthrough is achieved in the medical field.  As a member (or soon to be member) of this exciting career field, it should be a point of pride for you whenever such innovations occur.  For our part here at the Allen School blog, we always try to publicize these occurrences. Today's nifty news story comes from University Medical Centre Utrecht in the Netherlands where neurosurgeons completed the first successful
skull implant
using a large, 3-D printed skull.  The patient was a 22 year old woman with a bone disorder.  This step marks the opening of an exciting new frontier in medicine wherein 3-D printers can be used to fabricate replacement parts for the human body.
If you're just completing your certified nursing assistant course with us,
you're at the beginning of a fabulous career during a period in history which will be replete with fantastic breakthroughs that would have been considered science fiction just a few short decades ago.