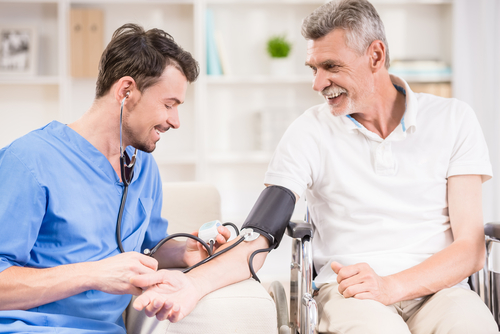 Healthcare is one of the fastest-growing fields in the United States. As the Baby Boomer generation retires, there'll be greater need for compassionate and well-trained healthcare experts at all levels from home healthcare aides to surgeons.
Medical assistants and nursing assistants are two bright spots in an already promising field.
The Bureau of Labor Statistics points out that healthcare occupations are expected to grow 18% between 2016 and 2026, much faster than the average occupation throughout the country. In fact, healthcare is expected to add more jobs than any other single occupational field.
No matter where you live or plan to live, healthcare has the highest potential to offer you a job role where you can make a positive difference in the lives of others while making a salary that you can be proud of.
Naturally, metro areas like New York City and the Phoenix, Arizona area tend to add jobs at a higher rate and offer more competitive salaries. When you are looking for the best medical technical training, launching your studies at The Allen School of Health Sciences not only gets you the top training available, but inside access to job markets where you can follow your dreams.
Worried About Applying? 5 Tips to Make the Process Easier for You
No matter if you're in Arizona local looking for healthcare training in Phoenix or someone from the Big Apple who wants the best nurse assistant training program in Queens, many students find that they are a little bit intimidated by the idea of applying for school.
If this describes you, we understand – and we are here to make things easier.
Not all nurse assistant programs are made equal, so you've already taken an important first step by deciding on The Allen School. Our quality programs offered at three convenient campuses has helped thousands of people launch amazing careers.
To simplify the process and get off to a great start, consider these tips:
Think About Why You Want to Be in Healthcare
Whether you're looking for Phoenix or Queens medical training, you should always start by understanding exactly why you want to be in healthcare. Think about the kind of difference you want to make for others, the type of workplace you'll like to be a part of, and how a fulfilling, secure job would make you feel. When you get in touch with your motivations, it is a lot easier to get through the process – each step you complete brings you that much closer to your goal.
Choose Your Program
Our nationally-recognized faculty offer students two healthcare programs: Nursing assistant and medical assistant. Our students consistently report that our classes are interesting, useful, and help prepare them for the job they want. The biggest first step is to decide which program you might be interested in. Our website offers plenty of information to get you started – and we are always here to answer your questions.
Find Out About Financial Aid
Financial aid is a valuable part of the enrollment process for many of our students. We know that getting the education you want means finding the right way to meet your financial needs – so you can focus on your studies and, ultimately, your career. To get started, review our list of scholarships. Doing this before you talk to an admissions representative will help you ask the right questions and make it easier for you to get a great financial aid package.
Gather Materials for Your Application Package
Even if you didn't have a great time in high school, you can still succeed here at The Allen School. Still, it's a good idea to gather some information, like your high school grades, which you'll usually be expected to share as part of the application process. If you've been away from studies for a while, contact your high school for an official transcript of your classes and grades. If you have a GED, make copies of the documents showing the date you received it.
Get Information You Need to Succeed
Each of our programs has different requirements. Some may require a GED or other credentials, for example. That's okay! Once you know which program you are most interested in, there is an easy way to get all the facts you need at one time. You can contact our team through the easy chat box on almost any page of our website. Or, use our contact page to drop us a line. An admissions expert will reach out to you as soon as possible for personalized help.
Allen School is dedicated to helping you make your healthcare career dreams a reality – when you graduate, our career services office will even be there to help you find a terrific job.
Get started today. We look forward to meeting you!