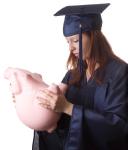 Lost among the overheated rhetoric of the recently concluded healthcare debate was the following piece of legislation of significant import to students everywhere.  Tonight, the President will sign the legislation that effectively removes Wall Street banks from their position as middleman on all student loans.  The largest rewrite of federal college assistance programs in four decades, the legislation makes the federal government the originator of these loans.  Before the anti-big goverment people get all scared about "takeovers" consider the following after the jump.  Up until today, the private banking industry (or as I like to call them, the Banksters) originated these education loans (for a fee) but the loans were guaranteed by the Federal government.  This meant that if a student defaulted on the loan, the government repaid this money to the bank.  So the banksters had a sweetheart deal.  They were getting paid to lend to students but they were assuming zero risk because all losses were repaid by the govt. 
Under the new law being signed today, the Federal Government will originate the loans and they fees generated by this lending will be wholly reinvested into programs supporting higher education for the American public, such as the Pell Grant program.  Half of undergraduates receive federal student aid and about 8.5 million students are going to college with the help of Pell Grants.  Since the government was guaranteeing these loans before, there is no new role for the Federal government here.  No "socialist takeover".  Simply, the Obama administration and Democratic Congressional allies have removed the parasitic middlemen on Wall Street from the equation.  Instead of those loan fees going to pad the already swollen bank accounts of Wall Street execs and the investor class, the fees are now being recycled back into the very educational programs from which they were generated; helping to guarantee the availability of monies for the next class of high school grads to enter into the realm of higher education. 
I cannot think of a better example of why government is necessary and how it is the solution to society's problems, not (as many have been fooled into believing) the problem itself.