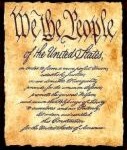 September 17th is Constitution Day and will fall on this coming Thursday.   This holiday, sometimes referred to as Citizenship Day recognizes the ratification of the
United States Constitution
and those who have become U.S. citizens. It is observed on September 17, the day the U.S.
Constitutional Convention
signed the Constitution in 1787.  But this year, it takes on a new significance as our nation debates whether or not to provide universal healthcare to all citizens.  I have heard many opponents of universal healthcare ask, "Where in the Constitution does it say that we're entitled to universal healthcare?".  Follow me over the fold for the answer to this, and other questions about the amazing document at the core of our Democracy. Article I, Section 8 of the Constitution says the Congress must provide for the general welfare of the United States.  Can it truly be said that Congress is fulfilling this mandate when fifty Americans die each day due to lack of health coverage?  Granted, providing for the general welfare cannot be interpreted to mean that Americans are entitled to have the Federal government buy them a house, groceries or a new pony.  This broad interpretation would give government powers beyond what the Constitution's framers ever envisioned and would certainly be closer to Socialism than Capitalism. However, Congress's obligation to provide for the general welfare under the Constitution, along with the Constitutional provision of equal protection under the law DOES suggest that Congress has an obligation to ensure that people who work hard and save responsibly have an opportunity to secure those necessities.  The current system for healthcare in the US has been effectively rigged over the years so that many Americans are one emergency or illness away from having their coverage dropped by for-profit insurers who will then deny them any new coverage due to "pre-existing conditions".   Many of our countrymen are given no options but death when extensive, expensive treatment is necessary.  This reality cannot be seen as consistent with the role of government as defined by the general welfare clause and equal protection clause of the Constitution. With so many important debates taking place at this time in our history, and with so much at stake – from environmental degradation and green energy production to healthcare to allegations of torture sanctioned by the last administration, we will undoubtedly need to refer to the Constitution to guide us through these thorny issues.  This is why it is really a civic responsibility for all Americans to know what this founding document of our Democracy contains.  I have always re-read the Constitution on a yearly basis to reacquaint myself with the wisdom it contains.  I urge all Americans to do the same.  Here is a
link
to a fantastic Powerpoint slideshow provided with permission byAES (retrieved on 09/14/09 ) that does a great job as a primer on the history and content of the US Constitution.  Enjoy and Happy Constitution Day!