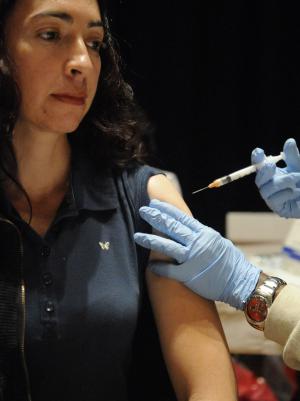 Guest Blogger – Zippi Dvash Asst. VP of Public Affairs Long Island College Hospital
Young, healthy people don't get sick very often.  But the flu is different.  In fact, the difference between a little bit of fever and a flu is like the difference between a bird and a gorilla.  This flu, the H1N1 virus, has claimed more young victims than any other in recent memory.  So if you hadn't considered getting vaccinated before – think again.  Follow me below to read why you ought to vaccinate and where you can get it today.
Local pediatrician Stephen Turner
, MD
, who is affiliated with Long Island College Hospital, received sufficient quantities to vaccinate his patients with enough left over to promote community health.  Come to his office on WEDNESDAY, DECEMBER 2nd (see below for time and location) – children of all ages welcome! 
There is a $20 administrative fee. 
Location:       185 Montague St., 4th floor, Brooklyn
Time:            1:00 – 4:00 pm
Date:            Wednesday, December 2, 2009
No appointment is necessary.