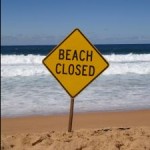 A few months ago, I wrote a post about the spread of Methicillin-Resistant Staphylococcus aureus, an antibiotic resistant pathogen.  The probable result of over use of penicillin in humans and in factory farm animals, this devastating illness was rarely contracted outside of hospitals.  But alarming and newly released studies show the presence of MRSA on US beaches – in the water and in the sand!  Perhaps a result of offshore dumping of medical waste, this is a disturbing development.  Especially as this blogger prepares to spend a week's vacation at the beach!  More details on this story and some positive developments too, after the jump. According to a new study, "Researchers tested 10 beaches in Washington along the
West Coast
and in
Puget Sound
from February to September 2008. Staph bacteria were found at nine of them, including five with MRSA. The strains resembled the highly resistant ones usually seen in hospitals, rather than the milder strains acquired in community settings."  Further, scientists don't believe that the contamination is restricted to these West Coast beaches.  This belief is supported by the results of a University of Miami study which found MRSA in four out of ten samples of sea water taken from South Florida beaches.  Does this mean going to the beach will grow so hazardous that we may have to forgo enjoying this simple pleasure in the future?  Marilyn Roberts, a microbiologist at the
University of Washington
in
Seattle said,
"We don't know the risk, " for any individual going to a beach.  "But the fact that we found these organisms suggests that the level is much higher than we had thought." So this is dreadful news right?  Well, hold on because medical researchers are on the case and had some very heartening news to report this week too. Evgeny Nudler, professor of biochemistry at
New York University
Langone
Medical Center
, published findings of h is research into ways to combat antibiotic resistant pathogens in
Science
magazine.   Apparently, according to Nudler's findings, a small molecule composed of one atom of oxygen and one of nitrogen plays an important role in helping pathogens resist antibiotics. 
Nitric oxide
was initially considered to be a toxic gas and air pollutant until 1987 when a Nobel Prize winning study showed that it played a physiological role in mammals.  Nitric oxide has subsequently been found to participate in a range of bio-physical activities, including learning and memory,
blood pressure regulation
, penile erection, digestion and the fighting of infection and cancer.  Nudler's new study supports the idea that many antibiotics cause the oxidative stress in bacteria, often resulting in their death, whereas nitric oxide counters this effect. This work suggests scientists could use a nitric oxide-synthase to make antibiotic resistant bacteria more sensitive to available drugs. Now if they could just hurry up.  I am going to the beach this Saturday!