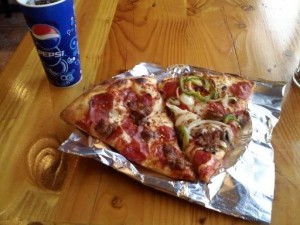 This courtesy of Reuters today:
"CHICAGO (Reuters) – U.S. researchers estimate that an 18 percent tax on pizza and soda can push down U.S. adults' calorie intake enough to lower their average weight by 5 pounds (2 kg) per year.

The researchers, writing in the journal Archives of Internal Medicine on Monday, suggested taxing could be used as a weapon in the fight against obesity, which costs the United States an estimated $147 billion a year in health costs."
We had
written about this proposal once before
here at the Allen School Online blog, when the proposed tax was put forth in New York State.  Now it seems the idea has taken hold nationwide.  I can sort of see the value in taxing sodas, which contain ungodly quantities of sugar in a single serving.  I might suggest taxing
all
items that contain high fructose corn syrup (but that will never fly because our government pays huge subsidies to corn farmers to produce this deadly sugar.)  Furthermore, soda is sold by all restaurants and groceries so a tax on soda would at least be equitably distributed across all foodservice and sales businesses.  However, I draw the line of fairness at singling out pizza for additional taxation.  What, do obese people not overeat fried chicken?  Chinese food buffet?  Ice cream sundaes? Why discriminate against pizzeria owners for this new tax?  Eating pizza specifically is not the only driver of obesity. I could live with a soda tax,but to start singling out individual foods for additional taxation is a very bad idea.  What do you think?