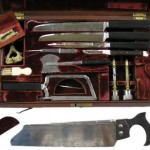 Students of Allen School Online ought to be very proud of themselves for being at the forefront of change in the medical industry.  The next decade will usher in radical changes in the way medical billing and coding are performed.  The inevitable transition from paper-based procedures to electronic medical filing will allow you to be one of those who "remembers the old way we used to do this". The advancement of human understanding in all areas, from agriculture to energy to communications to medical science, has been in an acclerating loop for the last 500 years.  The pace of progress seems to double and redouble.  Its hard to believe that less than 100 years ago, there was no air travel, no global telecommunications (heck, not even local telecommunications), and the cutting edge of surgical medicine (no pun intended) looks like something from a horror film.  Have a look at this fantastic posting about 1800's era surgical tools that appeared on one of my favorite blogs,
boingboing.net
, "A Directory of  Wonderful Things".
http://boingboing.net/2009/05/20/1800s-surgical-kit-u.html
The skills you're mastering today will prepare you to take the quantum step forward into the electronic future of medical billing and coding.