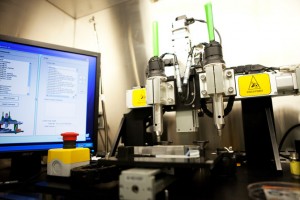 Scientists are closing in on perfecting a technology that will allow doctors to "print" new organs for ailing patients – organs made using their very own genetic material.  Unlike organ transplants where there is a very real probability that – in spite of steps taken to find a well-matched donor – the recipient's body may reject the donated organ, this new process actually fabricates a replacement organ using genetic material from the recipient.  Using an organic "printer" and some concoction of stem cells and other amazing stuff, the new technology known as "bioprinting" promises to enable the production of organs other body parts veritably on demand.  Right now, the technology is still in its infancy.  But they have been successful in printing veins and other circulatory tissues. 
Read the full photo essay at Wired magazine online.
  What I want to know is will the ink cartidges be as expensive as the ones I use in my printer?