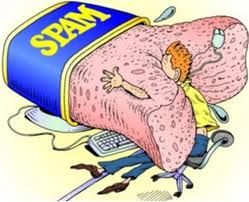 So you spend alot of time online and tethered to your online responsibilities like studying medical billing and coding at the Allen School Online.  This means you most definitely understand the time-sucking, productivity-draining effects of spam.  From scores of unwanted emails and text messages every day to unsolicited advertisements on Facebook to the always annoying telemarketing phone calls, many of us spend a not insignificant portion of every day (while we should be working/studying) opening and then deleting unwanted messages or "Spam" as this exquisite little inconvenience has come to be referred to.  Heck, I even get too much junk mail in the old snail mail box.  So how does one effectively do away with all this unwanted canned meat-product?  The nerds over at Lifehacker.com have compiled the definitive list of strategies for eliminating the spam from all inboxes, virtual or dirt-world. 
Click here for the secrets
of a Spam-free existence!