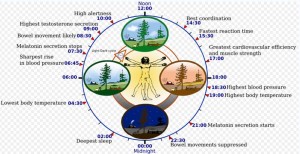 Many online students point to the flexibility of online study as one of the main reasons they chose to go to school via the internet.  It is true for folks who juggle work, family and studies, being able to allocate one's own time and formulate one's own schedule is invaluable to succeeding in all these important tasks.  Sometimes, it is necessary to get creative with the schedule in order to accommodate the incidental issues that pop up in life.  In these cases, you may find yourself pushing study time into the late night slot, or scheduling family breakfasts instead of family suppers.  This may be a useful ability to have, but recent research seems to indicate that having a more stuctured daily routine is better for your mind and body.  Follow me over the fold for a synopsis and links to the research in question. According to a
new study
just published in the journal
Sleep
,
keeping a daily routine
may be associated with a
reduced rate of insomnia
and
improved quality of sleep
.  Human beings have a biological clock that regulates the natural rhythm of their daily activities.  When to awaken, when to eat, when to rest – these are all things that our bodies regulate through something called Circadian Rhythm.  Wikipedia defines the Circadian Rhythm:
"A circadian rhythm is a roughly 24-hour cycle in the biochemical, physiological, or behavioural processes of living entities, including plants, animals, fungi and cyanobacteria (see bacterial circadian rhythms). The term "circadian" comes from the Latin circa, "around", and diem or dies, "day", meaning literally "approximately one day". The formal study of biological temporal rhythms such as daily, tidal, weekly, seasonal, and annual rhythms, is called chronobiology. Although circadian rhythms are endogenous, they are adjusted (entrained) to the environment by external cues called zeitgebers, the primary one of which is daylight."
As is noted, the circadian rhythm is driven by the cycles of daylight to darkness at night.  Although our modern, 24/7 existence frequently finds us at odds with the day-night cycles (think working the third shift or having a newborn baby in the home), it is still better for us psychologically and physiologically to maintain a regular routine. So, keep this in mind when trying to manage your busy life while integrating your course of online study.  Structure and routine may make scheduling a little more difficult, but the extra effort may pay handsome dividends in terms of productivity and quality of information retention.