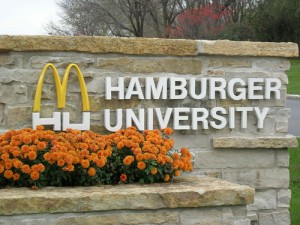 Have you ever had to defend your choice of online education to less than supportive family or friends?  Clearly, the Internet has upended many existing paradigms such as how we shop, socialize and study.  And while no one is suggesting that online studies are out of the mainstream, there is a certain newness to the practice of learning via the "tubes" that can raise the eyebrows of those more enamored of the orthodoxy of brick and mortar institutions of higher learning.  If you find yourself having to defend what is clearly a very savvy choice on your part, the following photo slide show can provide you with some truly unorthodox educational choices you can offer to provide some perspective to your debate opponent.  Follow me over the jump to learn more about such schools as Hamburger University and Clown College. Cannabis College?  School of Clowning Arts?  Corpse College? A university with FREE TUITION?!?  
Click here to see a slideshow
courtesy of the Huffington Post on some of the world's kookiest colleges.